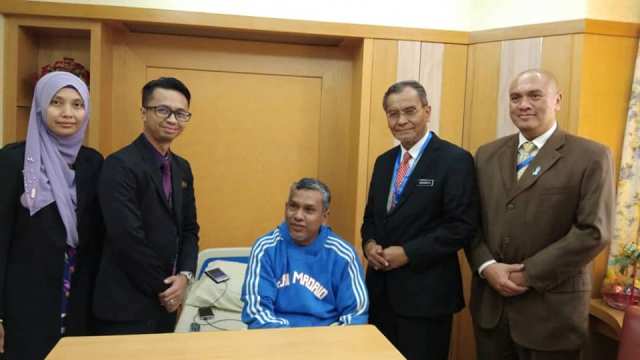 PUTRAJAYA, – Deputy Minister in the Prime Minister's Department (JPM) Mohamed Hanipa Maidin was allowed to return home today after receiving treatment at the Putrajaya Hospital.
His media officer Anas As-Said Zaharuddin said Mohamed Hanipa was told that he could go home by a specialist doctor at 4 pm today.
Mohamed Hanipa, who is also Sepang MP, suddenly collapsed and fell off  the stage as Prime Minister Tun Dr Mahathir Mohamad was addressing JPM staff at Perdana Putra, yesterday (July 9) morning.
Meanwhile, the  hospital in a statement issued on Facebook confirmed that the Deputy Minister was allowed to leave and to undergo follow-up visits with relevant medical experts.
He was found to have a "vaso vagal attack" (faint because body overreacts to certain triggers which cause the heart rate and blood pressure to drop suddenly) and was in a healthy and stable condition without any symptoms while in the ward, added the statement.
"The investigation did not show any acute abnormal results. Blood pressure and blood cholesterol levels were controlled and he did not have diabetes," the statement said.
The hospital also uploaded a photo of Health Minister Dr Dzulkefly Ahmad visiting Mohamed Hanipa at noon.
Mohamed Hanipa, in charge of the legal portfolio, is among the three deputy ministers at JPM who were sworn in on July 2, this year.
On April 4, 2016, Mohamed Hanipa was rushed to Kuala Lumpur Hospital (HKL) when he fainted during a Dewan Rakyat sitting.
Media reports had said that Mohamed Hanipa underwent surgery after the incident following bleeding in the brain because of high blood pressure.
— BERNAMA