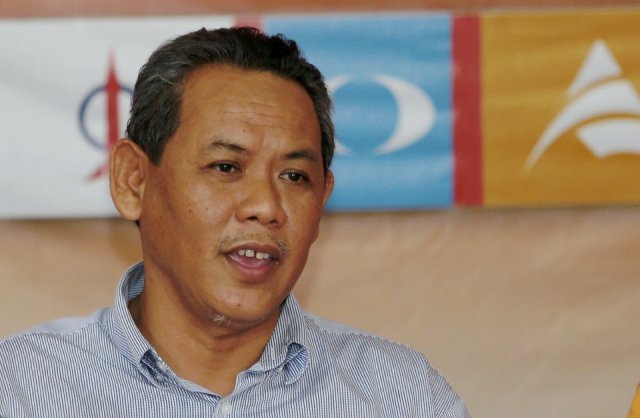 SEREMBAN  — Negeri Sembilan PKR chairman Aminuddin Harun (pic) today said that he chose to contest the post of Tampin Division chief in upcoming party polls as he wanted to step out of his comfort zone and challenge himself to lead the people in rural area.
Aminuddin, who is also Menteri Besar and Sikamat assemblyman, said the decision was made at the very last minute and was not influenced by any quarters.
"It is high time for me and all party members to step out of our comfort zones and work together to ensure that PKR will be at every inch of the state. "I chose Tampin because it is close to Johol, remote areas and also Felda estates. The main reason I want to contest there is simply to strengthen the party," he told reporters after presenting the appointment letters to 15 state constituency (DUN) coordination officers here yesterday.
Aminuddin, who will face incumbent Captain (Rtd) Zulkapli Kassim in Tampin, said the results of the polls would not affect his loyalty to the party. "I know he (Zulkapli) has many supporters and whatever the outcome is, I will accept the decision of Tampin PKR," he said.
Meanwhile, the menteri besar said the 15 state constituency (DUN) coordination officers were appointed for a two-year term and would function as the representatives of the Pakatan Harapan (PH) government in the opposition-led constituencies, especially in delivering and implementing the government policies.
He said the officers were also entrusted with the responsibility to serve, assist and solve the problems faced by the people in their respective constituencies. "Just like assemblymen, the appointed coordination officers must always be aware of the people's problems and bring it directly to the attention of the state government to ensure that those living in the opposition-led constituencies are not being marginalised," he said.
Aminuddin said the majority of the officers were PH candidates who lost the contest in the May 9 general election, except for Johol and Gemas, and each of them would receive a monthly allowance of RM2,500.
Starting next year, he said each government-led state constituency would receive an allocation of RM500,000, but for every opposition-led constituency, RM400,000 would be given to the coordination officer, while the assemblyman would receive RM100,000.
— BERNAMA