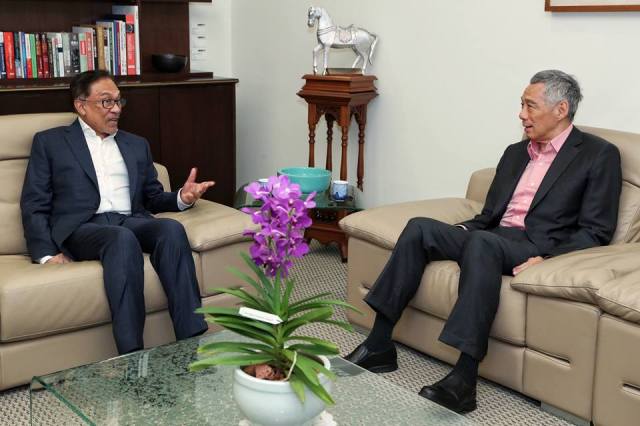 SINGAPORE – Singapore Prime Minister Lee Hsien Loong yesterday wished Datuk Seri Anwar Ibrahim "all the best" in the upcoming by-election in Port Dickson.
"Caught up with Datuk Seri Anwar Ibrahim in my office today. We last met when I visited Putrajaya in May," wrote Lee on his Facebook page yesterday.
The posting was accompanied a photo of him with Anwar, Malaysia's Prime Minister- in-waiting.
Anwar, Parti Keadilan Rakyat president elect and de facto leader of the governing Pakatan Harapan coalition in Malaysia has chosen the Port Dickson seat to pave the way for his political comeback.
In his posting, Lee also acknowledged that Anwar spoke at the Singapore Summit 2018 which was held today at Shangri-La Hotel.
He noted that Anwar will be here again next week to speak at the Singapore Management University.
Anwar will speak at the Ho Rih Hwa Leadership Lecture Series on Sept 20.
"Glad he is spending some time with our academic institutions, meeting Singaporeans, building bridges, and strengthening ties between our countries," Lee added.
Among others, at the S Rajaratnam Endowment Dialogue, a key programme of the Singapore Summit 2018, Anwar spoke about Singapore-Malaysia relations.
At the Dialogue, Anwar also made a promise, saying : "If and when I assume the premiership, I will make sure the first country I visit is Singapore."
Singapore's former Prime Minister Goh Chok Tong and Chief Executive Officer of Temasek Holdings Ho Ching were also present at the Dialogue.
— BERNAMA