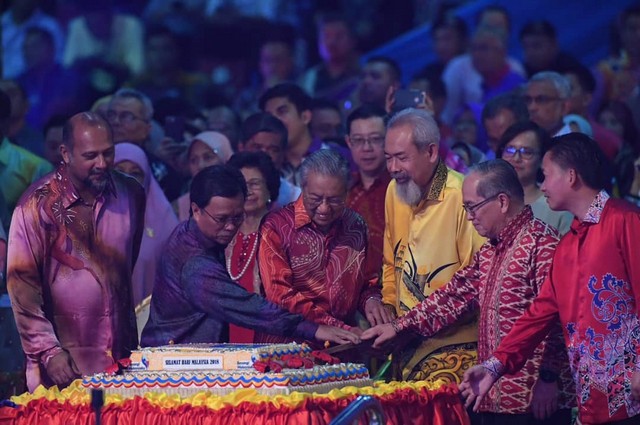 KOTA KINABALU — The 2018 Malaysia Day celebration at Padang Merdeka near here last night was manifestation of patriotism by about 30,000 people of various races to mark the historic day.
The occasion to highlight the formation of Malaysia 55 years ago was significant as it was at this location the historic declaration of Malaysia on Sept 16 in 1963 took place apart from being the first time it was observed under a new federal and state government.
Visitors who flocked Padang Merdeka as early as 5pm in a show of true patriotism were not disappointed as they were entertained with various performances while waiting for the arrival of honoured guests.
Prime Minister Tun Dr Mahathir and his wife Tun Dr Siti Hasmah Mohd Ali with Deputy Prime Minister Datuk Seri Dr Wan Azizah Wan Ismail as well as Sabah Chief Minister Datuk Seri Mohd Shafie Apdal and his wife, Datin Seri Shuryani Shuaib arrived at the celebration location at about 8pm.
The historic event which was officiated by Prime Minister Tun Dr Mahathir Mohamad was also attended by Sarawak Deputy Chief Minister Datuk Seri Douglas Uggah Embas who represented the Chief Minister of Sarawak Datuk Patinggi Abang Johari Tun Openg.
Also present were Communication and Multimedia Minister Gobind Singh Deo as well as federal and state cabinet ministers.
The event began at 8.11pm upon the arrival of Sabah Yang Dipertua Negeri Tun Juhar Mahiruddin and his wife Toh Puan Norlidah RM Jasni, with the singing of Negaraku followed by the Sabah state anthem, Sabah Tanahairku as well as a welcoming presentation based on the diversity of Malaysia put up by more than 1,200 performers.
The celebration continued a welcoming speech by Mohd Shafie before Dr Mahathir was invited to deliver his speech to officiate the anniversary day.
The ceremony also took visitors through history with a special documentary on the formation of Malaysia followed by the signing of the 2018 Malaysia Day Celebration book.
The next item saw the cutting of cake by Juhar with Dr Mahathir and Mohd Shafie.
The spectators were then treated to a convoy of 50 Jalur Gemilang participants of the Sabah Information Department led by its director Norzawiyah Bulka to hand over the flags to the Prime Minister before they were placed at the flag posts and raised by a group of Royal Malaysian Navy officers.
The highlights continued with a special presentation of Sayangi Malaysiaku with cultural dances and songs divided into three segments namely Malaysia harmony, Malaysia colours and New Malaysia.
The special performance displayed the unity, cooperation and harmony of Malaysia comprising performers of various races and religions.
— BERNAMA