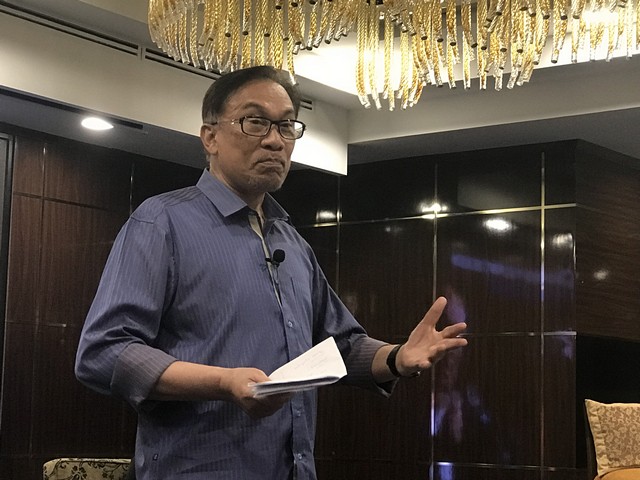 PORT DICKSON — All quarters should look at the statement made by Minister in the Prime Minister's Department Datuk Dr Mujahid Yusof Rawa concerning anti-vice operations in its larger context, says Pakatan Harapan (PH) candidate for the Port Dickson parliamentary by-election Datuk Seri Anwar Ibrahim.
"We must look at the context and read it carefully. He does not encourage it. He was just describing how the operations should be done. We don't encourage it either…vice is vice," he told reporters after opening the YB Ravi Cup football tournament at Padang Merdeka here today.
The PKR de facto leader said this when asked to comment on Mujahid's statement as reported exclusively by The Star that "no more knocks on the door in the middle of the night and no more breaking down of doors by the religious authorities investigating reports of 'khalwat' (close proximity)  or other alleged wrongdoings".
Instead, Mujahid was reported to have insisted that what Muslims do behind closed doors is none of the government's business.
However, when interviewed by Al Hijrah television station earlier today, Mujahid clarified that the words used in the report did not come from his mouth, but were added by the editor who took their own assumption from his statement.
— BERNAMA