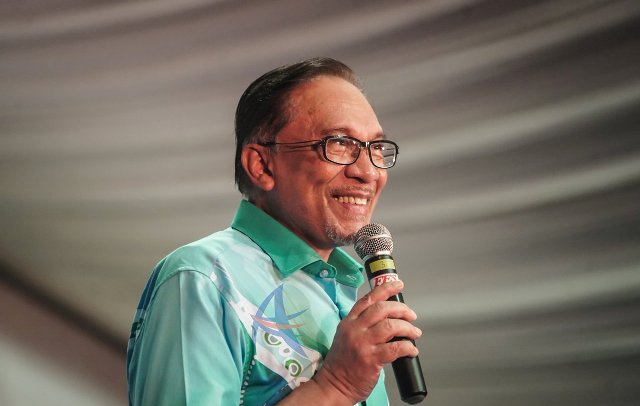 KUALA LUMPUR —  Parti Keadilan Rakyat (PKR) president Datuk Seri Anwar Ibrahim has filed an application to strike out an originating summons by a voter in Port Dickson seeking a court declaration that Anwar is not qualified to contest any parliamentary seat.
Lawyer J.Leela , representing Anwar, said the application to strike out the summons by Noraziah Mohd Shariff, 38, was made on grounds that the woman had no locus standi to do so and it was unfair.
The application will be heard before High Court judge Datuk Azizah Nawawi today (Tuesday) she said when contacted by reporters.
Noraziah filed the originating summons last Sept 28 though the legal firm of Messrs. Raja Riza & Associates at the High Court, naming Anwar and the Federal territories Pardons Board as the first and second respondent, respectively.
She is seeking the court to declare that the Pardons Board, which was set up to advise the  Yang di-Pertuan Agong, Sultan Muhammad V on matters pertaining to Anwar's pardon, was not formed in accordance with the Federal Constitution.
She is also seeking a declaration that the pardon given to Anwar did not strike out his disqualification to contest a parliamentary seat following his conviction in a criminal case.
In her supporting affidavit, the woman said she sought the order as Article 48 (1) (e) of the Federal Constitution stated that someone who has been convicted of an offence and sentenced to jail for a term more than a year and fined not less that RM2,000 is disqualified for being a member of Parliament.
She said Anwar was released from prison on May 16 this year after receiving a royal pardon for the criminal offence which disqualified him of being a member of Parliament.
However, in granting a full pardon to Anwar, she said, the Yang Di-Pertuan Agong did not remove Anwar's disqualification as provided under Article 48(1) (e) of the Federal Constitution.
Noraziah's originating summons was submitted together with a certificate of urgency for the court to hear the matter urgently before the Port Dickson parliamentary by-election, which polling is on Oct 13, as Anwar is a candidate.
— BERNAMA