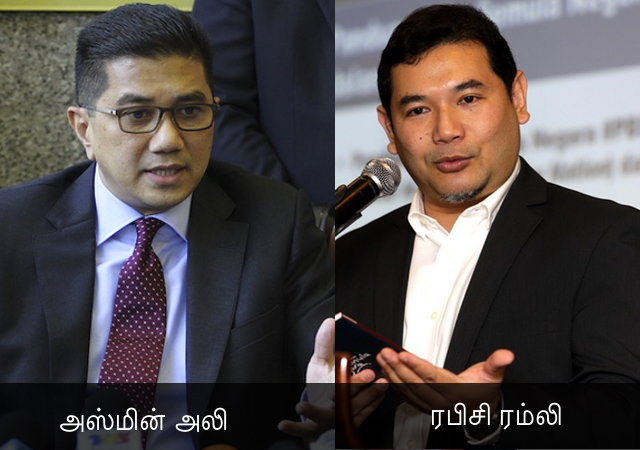 SHAH ALAM –Selangor PKR chairman Datuk Seri Mohamed Azmin Ali is in the lead in the state for the Number Two post in the party following the conclusion of the first phase of  state-level elections that involved nine divisions today.
The nine divisions are Sabak Bernam, Sungai Besar, Hulu Selangor, Serdang, Kelana Jaya, Subang, Kapar, Kota Raja and Sepang.
According the party's polls website  www.pemilihankeadilan2018.com, Mohamed Azmin, who is also Economic Affairs Minister, polled 9,337  votes while his challenger Mohd Rafizi  Ramli obtained 8563 votes.
The former Selangor menteri besar won in six divisions namely Sabak Bernam, Sungai Besar, Serdang, Subang, Kota Raja and Sepang while Mohd Rafizi, who is former Pandan MP, took Hulu Selangor, Kelana Jaya and Kapar.
As for the remaining 13 divisions,  Puchong, Gombak, Petaling Jaya (PJ) Utara, PJ Selatan, Kuala Langat, Klang and Selayang will hold their polls on Oct  21 whereas  Tanjong Karang, Kuala Selangor, Ampang, Pandan, Shah Alam and Hulu Langat on Oct 28.
However, the official tally of votes will only be announced by the party's Central Elections Committee (JPP) once it is satisfied that the e-voting process was satisfactorily conducted.
Earlier,  the polls results in Kelantan, Terengganu, Pahang and Federal Territories favoured Mohd Rafizi while Mohamed Azmin triumphed in Penang and Johor.
The  competition at divisional level saw Deputy Rural Development Minister R. Sivarasa winning the Subang division when he defeated challenger Shatiri Mansor while Kapar MP Datuk Abdullah Sani Abdul Hamid failed to clinch the Kapar division head post when he lost to Sementa assemblyman Dr Daroyah Alwi.
Sivarasa and Abdullah Sani are also contesting for a seat in the Central Leadership Council while Dr Daroyah is going for the PKR Wanita deputy head post.
Selangor which has the largest membership with 249,850 voters, is the seventh state to implement e-voting.
Earlier, there were confusion at the Sabak Bernam and Kapar divisions when several delegates were unhappy as they had to wait for a long time before being allowed to vote.
Commenting on the matter, JPP chairman Datuk Rashid Din said even though there was confusion initially but it was brought under control.
"Initially the voting process was quite slow with the presence of so many members but the situation improved after about 100 members were allowed to enter the hall to vote.
"We cannot satisfy everybody, wherever it is,  there will be such problemS. Nonetheless, overall,  voting at the nine divisions went on smoothly with no reports of untoward incidents and no voting process suspended," he said when contacted by Bernama.
— BERNAMA