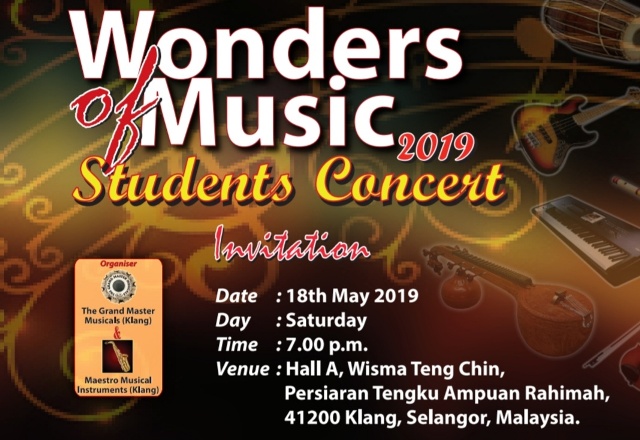 Klang – On Saturday 18th of May, Klang will witness the Musical Performances by 114 students of Maestro Musical Instruments of Klang. Students of different age groups and backgrounds will be performing together on the same stage.
The main objective of this program is to provide a platform for the upcoming musicians to showcase their musical talents. The aim of this event is also to give exposure to the music students of different performing levels to experience performing live music on stage in front of a large crowd.
"Wonders of Music 2019" is scheduled to be staged on Saturday 18th of May at Wisma Ng Teng Chin, Klang, from 7 pm to 11 pm.
The Music teachers who are conducting this musical event are R.Ramachandran (Principal), R. Hary Haran (Strings & Keys) and R. Venkatram Swamy (Percussion)
The types of performances to be staged include Vocal-Singing, Veena, Violin, Harmonium, Guitar, Keyboard, Mirdhanggam, Tabla, Thavil, Dholak, Dholki, Khol, Ghatam, Kanjira,
Western Acoustic Drums will also be used.
Musical Genres that will be performed include Carnatic & Hindustani Classical, Devotional, Light Music, Cine Hits, Fusion Music and Western Music.
This event is organised by The Grand Master Musicals, Klang. Previously Grand Master Musicals has set a national record in 2012 by bringing the most number of Tabla Players in a single performance in Malaysia which was recognized and recorded by Malaysia Book of Records.
The Grand Master Musicals has been organising musical events since 2011, starting with its debut music concert "Little Kunnakudi & Orchestra".
The Grand Master Musicals also provides live band music shows for private/public events and conducts music classes & music recording sessions.
Grand Master Musicals has a sister company called Maestro Musical Instruments which is a music learning center founded by renowned musician (Vocalist & Violinist), Shri K. Ramaswamy Iyer, in 1940s.
Maestro Musical Instruments continue to provide music lessons on Carnatic Vocal, Veena, Flute, Violin, Keyboard, Harmonium, Sitar, Guitar, Mirdhanggam, Tabla, Dholak, Dholki, Western Drum, Bongo/Conga and several other musical instruments for students of all age groups and backgrounds.
Maestro Musical Instruments also deals with sales and service of musical instruments. The company is reputedly Malaysia's largest importers and sellers of Indian Musical Instruments. They also provide repair services for musical Instruments.
This music concert "Wonders of Music 2019" is a joint venture of Maestro Musical Instruments and  Grand Master Musicals.