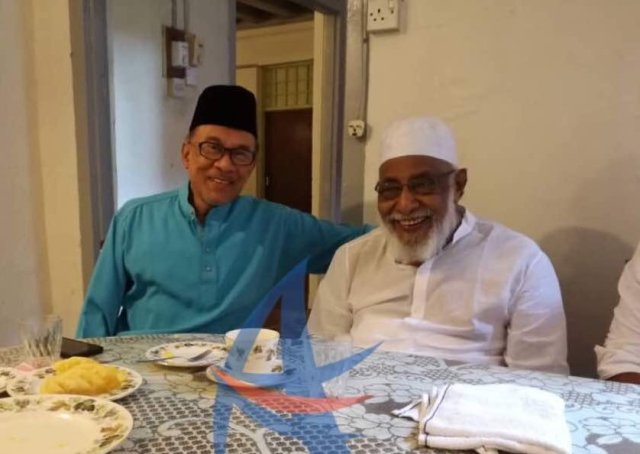 GEORGE TOWN — PKR president Datuk Seri Anwar Ibrahim has paid tribute to S M Mohamed Idris, saying the government had yielded to his demands for consumer protection before.
Describing the death of Mohamed Idris as a big loss to the country, Anwar said that when he was deputy prime minister he had deferred to Mohamed Idris on certain consumer issues.
"I remember I had to defer to him on several issues sometime ago," Anwar told reporters after attending the funeral of Mohamed Idris at the Muslim cemetery in Jalan Perak here today.
Mohamed Idris, the founding president of the Consumers Association of Penang (CAP), died at the Gleneagles Medical Centre at the age of 92 yesterday.
Apart from helping to establish CAP in 1969, he was also the chairman of Sahabat Alam Malaysia, and he was awarded the Tun Abdul Razak Award for his contributions to society and conservation of the environment.
Anwar, the Member of Parliament for Port Dickson, said Mohamed Idris was a renowned consumer advocate who not only fought for the rights of consumers but also the interests of the people, especially the poor.
Mohamed Idris was firm in championing the rights of the marginalised, especially on housing, and had even questioned certain national development policies which he felt undermined environmental conservation and public safety, Anwar said.
"He was a social activist with an unwavering stand; he was respected by both Muslims and non-Muslims," he added.
Meanwhile, Penang Malays Association president Tan Sri Yussof Latiff said he had lost a good friend of more than 50 years as he and Mohamed Idris had been involved in the non-governmental organisation movement.
"I was shocked when told of his death at 5 pm yesterday and immediately contacted his children. I'm sad to lose a good friend," he said.
Penang Hindu Association president P. Murugiah conveyed his condolences to the family of Mohamed Idris, who he said had contributed a lot to the association.
— BERNAMA