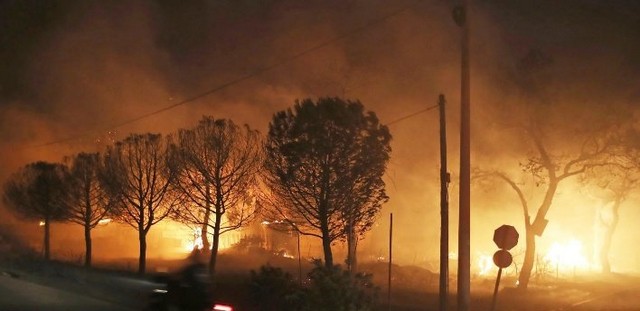 ATHENS — Greek Coast Guard divers have recovered the body of another victim of the July 2 wildfire in East Attica, bringing the death toll to 92, Xinhua news agency reported, citing the Greek national news agency AMNA.
Twenty-five people are still missing after a widfire hit the coastal resort area, 30 km east of Athens. ''The government will restore the fire stricken areas and help the injured by adopting quick procedures that are simple and without bureaucracy. From  Tuesday, those injured by the wildfire can apply for financial assistance,'' government spokesman Dimitris Tzanakopoulos told a press briefing on Monday.
An investigation into the causes of Greece's deadliest tragedy in over a decade is underway, as the central government, municipal authorities and the opposition parties continue a blame game over the factors which led to the catastrophe.
Rafina-Pikermi Mayor Evangelos Bournous was summoned to testify on Monday before a public prosecutor, Marathon Mayor Ilias Psinakis will follow on Tuesday, while the first lawsuit over the wildfire was also filed on Monday with the chief prosecutor of the Athens Appeals Court.
Retired navy officer Panagiotis Stamatis called for charges be made against those responsible, including ministers, ministry staff, elected officials at Attica regional authority, municipalities and others, for murder, dereliction of duty, and violation of building regulations resulting in deaths.
Among others,Stamatis noted that none of the officials in authority had given orders for the evacuation of residents in the village of Neos Voutzas  and the town of Mati.
One week after the tragedy, ordinary citizens are expected to gather outside the Greek parliament in central Athens to light candles in memory of the wildfire victims.
The first call for a "silent gathering to say sorry to all the victims" was made via social media by Greek basketball player Yannis Gagaloudis.
–BERNAMA