KUALA LUMPUR – Investigations into the 1Malaysia Development Berhad (1MDB) case has uncovered that RM2.973 billion was deposited into the personal account of former Prime Minister Datuk Seri Najib Tun Razak, said Deputy Inspector-General of Police Tan Sri Noor Rashid Ibrahim (pic).
He said the amount was deposited into an AmIslamic Bank account in three phases involving three companies, namely Good Star, Aabar and Tanore.
Noor Rashid said so far, police have also detected 132 transactions of illegal funds connected to 1MDB and further investigations are on-going.
"In addition, statements have been recorded from 64 witnesses including Najib, his daughter Nooryana Najwa and several other individuals to help in the investigations into the case. The investigations involve local and overseas witnesses and it is very difficult because it requires the cooperation of affected countries for it to be completed," he said in a press conference on the development of the investigations into 1MDB at Bukit Aman yesterday.
"Besides Najib and his daughter whose statements were recorded, police also called in several politicians to take their statements on the same case, but I will not reveal their names," he said.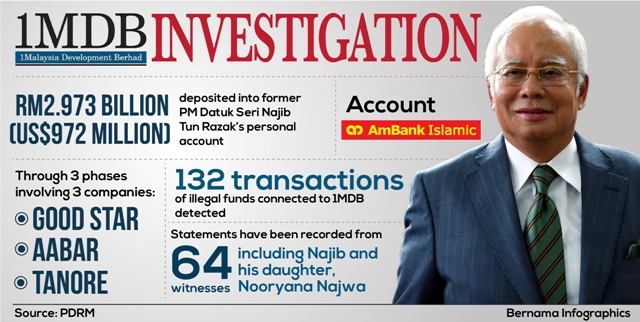 Noor Rashid said so far, the Bukit Aman AMLA (Anti-Money Laundering, Anti-Terrorism and Proceeds of Unlawful Activities Act 2001) team has not received any official request from any party for the confiscated cash and valuables in the case.
However, Najib has made a press statement on the confiscated cash, following which the AMLA team issued an order under Section 32 of the AMLA Act 2001 for him to be come forward to meet with the investigating officers about the money.
Noor Rashid also said the AMLA team had also identified several bags and wristwatches which were suspected to have been bought with proceeds from illegal money.
"The AMLA team is also working with several other countries which can help in the investigations into the 1MDB case," he said.
Noor Rashid said police were now in the process of gathering evidence so that prosecution action and disposal of assets of those involved could be taken.
"For this, police has about a year (until May 2019) to complete the investigations into the 1MDB. The AMLA team has requested and is working with overseas authorities to obtain evidence and the necessary documents for the case," he said.
Noor Rashid added that police were seeking Mutual Legal Assistance (MLA) from the Attorney-General's Chambers to call witnesses from overseas to help in the investigations into the case.
"The Attorney-General's Chambers has held talks with overseas parties and is taking follow-up action. Most of the 1MDB transactions were done overseas which is why we need MLA to get their agreement," he said.
He said police had also applied for the MLA process through the Attorney-General's Chambers with related countries like Singapore, Saudi Arabia, America and Switzerland.
"The investigation is taking time as it is difficult getting the statements of overseas witnesses, but we are confident it will be resolved," he said.
Elaborating on the RM2.973 billion which had been deposited into Najib's personal account, Noor Rashid said police had identified more than 50 individuals in the country and overseas including several politicians who received money from the transactions.
On May 17, the AMLA team opened an investigation paper under Section 4(1) ​​​​​​AMLATFPUAA 2001.
Subsequently, raids were conducted on five premises and various items such as cash amounting to RM114 million, 12,080 units of jewellery, 566 units of handbags, 437 wristwatches and 234 spectacles of various brands were confiscated.
— BERNAMA