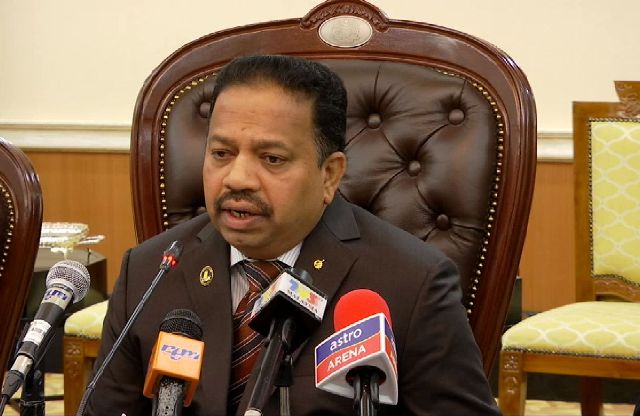 KUALA LUMPUR — Dewan Negara president Tan Sri S. A Vigneswaran is insisting that he did not misuse his position and privileges in the incident at the Kuala Lumpur International Airport (KLIA) on Nov 14.
"I am a public  servant and adhere to existing laws," he told a press conference at the Parliament lobby yesterday. He said the issue involved Malaysia Airports Holdings Berhad (MAHB), a public-listed company and the incident had nothing to do with the jurisdiction of the Transport Minister.
Hence, he said he would initiate legal action against Transport Minister Anthony Loke Siew Fook for accusing him of breaching security protocols while using the VIP lane at KLIA.
"I have consulted my lawyer and I will sue him (Loke) as soon as possible. He has embarrassed me as Dewan Negara president, embarrassed my family, and my daughter received abusive comments from netizens.
"His (Loke) actions in disclosing the video pertaining to the KLIA incident contravened the Personal Data Protection Act 2010 and I will lodge a police report on the violation," he said.
Based on a recording of a closed-circuit television camera, the incident, which took place at 10.14pm on Nov 14, Vigneswaran, who is also MIC president, was stopped by an airport employee for not adhering to the dress code while using the VIP lane. He was said to be wearing sandals at that time.
However, Vigneswaran did not stop and continued to walk towards the VIP lobby.
Loke had earlier demanded that Vigneswaran apologise openly but the latter insisted that there was no need for him to apologise as the allegations were incorrect and biased.
A police report was lodged by the KLIA management for an investigation to be carried out and the ministry would wait for the full report, he said.
Loke also said that he was ready if Vigneswaran wanted to initiate legal action as it was his right as the Dewan Negara president.
"It is up to him … if he (Vigneswaran) wants to take legal action, what can I do," he told a press conference yesterday after handing over the report on the implementation status of 51 improvement recommendations outlined by an independent advisory panel at the Malaysian Institute of Road Safety Research (MIROS) in Kajang.
Asked about the allegations that the disclosure of the video was aimed at removing Vigneswaran from his post as Dewan Negara president, Loke said: "This has nothing to do with politics … it concerns the rule of law."
— BERNAMA