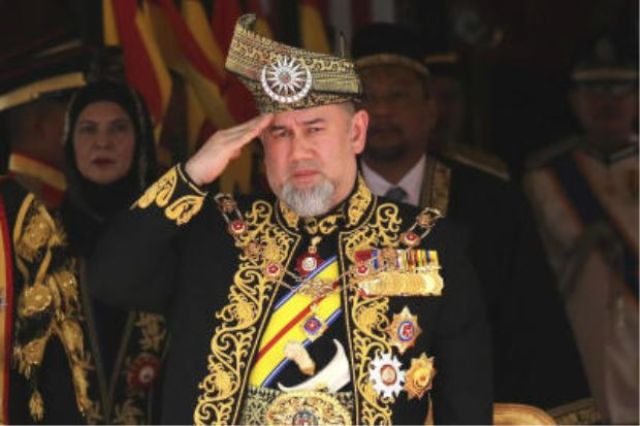 Kuala Lumpur – Malaysia's next King will be known on Jan 24 when the Conference of Rulers convenes a special meeting to elect the 16th Yang Di-Pertuan Agong and his Deputy.
The succession is necessitated following the Sultan of Kelantan Muhammad V stepping down as the 15th Yang Di-Pertuan Agong yesterday.
The Keeper of the Rulers' Seal Tan Sri Syed Danial Syed Ahmad  in a statement said the matter was decided by the  Malay rulers in their meeting at 10.30am today at Istana Negara, which also fixed Jan 31 for  the swearing in ceremony of the new King and his deputy.
Until the new King is proclaimed,  Deputy Yang di-Pertuan Agong Sultan Nazrin Shah will be the acting King.
The meeting today was attended by  the Sultan of Terengganu Sultan Mizan Zainal Abidin, Raja Perlis Tuanku Syed Sirajuddin Tuanku Syed Putra Jamalullail, Yang Dipertuan Besar Negeri Sembilan Tuanku Muhriz Tuanku Munawir, Sultan of Johor Sultan Ibrahim Sultan Iskandar, Sultan of Perak Sultan Nazrin Shah and Sultan of Kedah Sultan Sallehuddin Sultan Badlishah.
The Sultan of Pahang Sultan Ahmad Shah  could not attend the meeting due to ill health while the Sultan  of Selangor Sultan Sharafuddin Idris Shah is overseas.
According to the official website of the Keeper of the Rulers' Seal,  in the event of vacancies for the positions of the Yang di-Pertuan Agong and Deputy Yang di-Pertuan Agong, the elections to select the new King and deputy must be held no later than four weeks the positions became vacant.
Meanwhile, Prime Minister Tun Dr Mahathir Mohamad said the government hopes that the new Yang di-Pertuan Agong would be elected as soon as possible.
Dr Mahathir said the election had to be expedited because he had to have an audience with the Yang di-Pertuan  Agong on certain matters.
"The government accepts the decision of (the Sultan of Kelantan) Sultan Muhammad V to step down. It is in accordance with the constitution," he told reporters after opening the Terengganu office of Parti Pribumi  Bersatu Malaysia (Bersatu) in Kuala Terengganu.
The stepping down of Sultan Muhammad V as Head of State is a first in the history of the country, which practises constitutional monarchy and parliamentary democracy.
The King and his deputy are elected on a rotation basis from among the Malay rulers for a five-year term.
Sultan Muhammad V's reign as the 15th Yang di-Pertuan Agong  was from Dec 2016 till Jan 6, 2019.
-Bernama