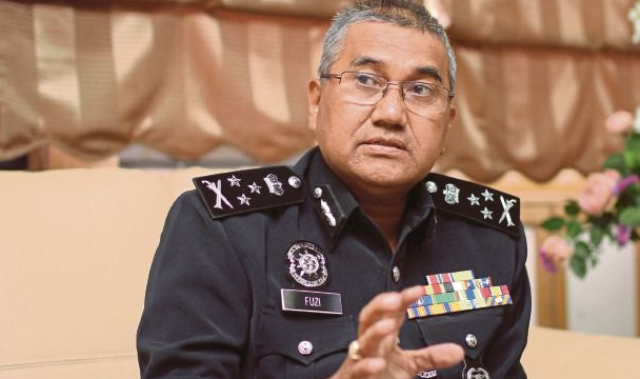 KUALA LUMPUR — Police have to date received 867 reports on the video clip which allegedly contains derogatory elements about the Hindu religion made by an independent speaker.
Inspector-General of Police Tan Sri Mohamad Fuzi Harun (pic) said the speaker who was detained in Perlis, has been brought to Kuala Lumpur and is being investigated by the Dang Wangi District Police Headquarters (IPD) and a special team from Bukit Aman.
"This is the number of police reports lodged as of this morning and there is a possibility the number will increase. The speaker is still under remand for four days until this Wednesday to help in the investigations," he said in a press conference held after attending the launch of the Brickfields IPD here today.
The 34-year-old speaker was detained in Arau, Perlis yesterday to help in the investigations into the case.
The video clip was uploaded by YouTube account holder Info Sunnah Kelantan on Dec 30 last year.
Earlier, Mohamad Fuzi handed over a replica of a key to the Brickfields IPD as a gimmick for the launch of the new district police headquarters located on a 2.5-hectare land and was completed last year at a cost of RM40.6 million.
Mohamad Fuzi said police may call in several other individuals relating to the criticisms against the Malay Rulers at a public forum on the Rome Statute held at Universiti Malaya on Saturday.
"Police have received reports from several parties such as non-governmental organisations which were not satisfied, so we are investigating…we will look at the need and the offence…if need be, we will call in to help in the investigations," he said.
The Pertubuhan Pribumi Perkasa Malaysia (Perkasa) was reported to have lodged a police report against a member of the forum who criticised the Malay Rulers at the forum.
At the same time, Mohamad Fuzi said, police were also conducting investigations into the reports made on the spread of posters for the 'Sesi Teh Tarik Bersama 4 Putra Mahkota'.
"Yes, police  have received reports on the programme and for now, investigations are being carried out under the Communications and Multimedia Act 1998," he said.
"The investigations are being conducted by police personnel from the Kuala Lumpur and Bukit Aman Contingent Police Headquarters. We will wait for the investigations to be completed, so do wait," he said.
UMNO Supreme Council member Datuk Lokman Noor Adam was reported to be among the persons who shared the poster of the event on the social media.
— BERNAMA