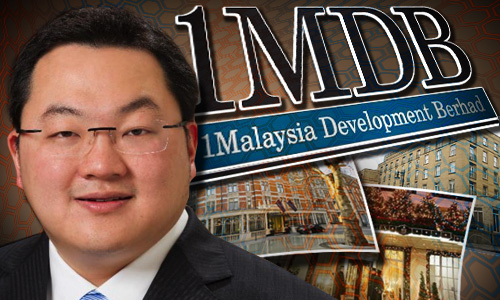 KUALA LUMPUR — A former special officer to Datuk Seri Najib Tun Razak today described fugitive businessman, Low Taek Jho or Jho Low as a puppet master as he could manipulate anyone, regardless of status, to get anything he wants.
Datuk Amhari Efendi Nazaruddin, 43, told the High Court that  from his perspective, Jho Low was able to engage different people at different places to get what he wants.
He said this when cross-examined by Najib's lead counsel Tan Sri Muhammad Shafee Abdullah on the fifth day of the former premier's 1Malaysia Development Berhad trial (1MDB).
"In an overwhelming way, he is able to place people, meet people and persuade people in various positions, whether it is from high positions, medium positions or low positions, involving domestic and international individuals and organisations, so that he will get what he wants.
"Up to a point, most of the time, we do not know who these people are but all are going in the same direction," he said while adding a football analogy to describe Jho Low as someone who knew the referee, the managers of both teams, and even the person who built the stadium, and could change the result of a game to his liking.
The witness then agreed to a suggestion by Muhammad Shafee that Jho Low was a puppet master.
Amhari Efendi gave the example of his trip to China where he did not know heads or tails of his trip there.
"When I arrived in the country, all of the agendas had been set and if I disagreed with something, there are others there to remind me to continue with the agenda," he added.
On Wednesday, Amhari  Efendi had testified that Najib instructed him to go to China alone to confirm that there was an agreement to strengthen bilateral relationships and trade, a trip that Jho Low had arranged.
The eighth prosecution witness also agreed to a suggestion by Muhammad Shafee that Jho Low was so convincing that he "could have sold ice to the Eskimos".
Muhammad Shafee: Do you know where Jho Low graduated from?
Amhari Efendi: If I'm not mistaken it's Wharton (School of the University of Pennsylvania).
Muhammad Shafee: He also went to a public school in England. Harrow School. Winston Churchill went there.
Amhar Efendi: I didn't know that. Now I know.
Muhammad Shafee: So he received a solid education. He speaks well. Primary quality of his is he's able to convince people.
Amhari Efendi: Yes.
Muhammad Shafee: To put it in an analogy he can sell ice to the Eskimos.
Amhari Efendi: Very possible.
The witness said he realised to a certain extent that Jho Low was quite influential and after the change of government, he also realised the scale of what he (Jho Low) was capable of doing, especially after the China trip.
The witness also said he found it bizarre that the businessman was able to execute orders on such tight deadlines as some of the proposals were gigantic and out of this world, and people would think that one person could not possibly execute all of those by himself.
Muhammad Shafee then referred  to paragraph 39 of Amhari Efendi's witness statement.
Muhammad Shafee: Referring to Jho Low's instructions where you described it as 'aggressive' and meetings between the three of you (Jho Low, Amhari Efendi and Najib's then Principal Private Secretary, the late Datuk Azlin Alias) as 'pelik' what do you mean by 'pelik' (weird).
Amhari Efendi : Well, there were times Azlin questioned the instructions, whereby he would subsequently cross-check with Datuk Seri Najib himself.
However, the witness said, he never cross-checked with Najib himself because it would be embarrassing to bypass his superior (Azlin).
Muhammad Shafee: But you could have done better by asking the Prime Minister himself? You met him many times, you could have asked.
Amhari Efendi: I disagree.
Muhammad Shafee: You are saying you had no opportunity to raise this matter to  Datuk Seri Najib when you met him many times, at least once a week? You could not raise this?
Amhari Efendi: I cannot. I had to listen to Azlin. In the civil service, I have to follow the rules. I have to report to my direct superior. It would be embarrassing for me to do otherwise. Unless Azlin told me to check.
Muhammad Shafee: You confirm you depended entirely on Jho Low and Azlin's words.
Amhari Efendi: Yes.
Najib, 66, is facing four charges of abusing his position to corruptly obtain RM2.3 billion of 1MDB funds and 21 counts of money laundering related to the money.
The Pekan MP allegedly committed the four offences at AmIslamic Bank Berhad, Jalan Raja Chulan branch, Bukit Ceylon here between Feb 24, 2011, and Dec 19, 2014, and the 21 charges, between March 22, 2013, and Aug 30, 2013, at the same place.
The trial before Justice Collin Lawrence Sequerah continue on Tuesday.
— BERNAMA