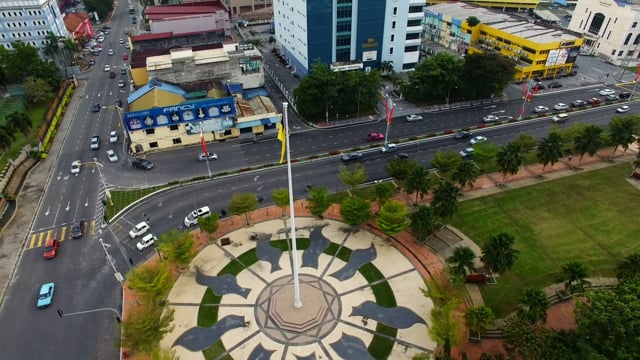 SEREMBAN: Seremban, which is the capital of Negeri Sembilan, is growing rapidly having being accorded the city status last Jan 1.
Based on the Negeri Sembilan population census in 2018, Seremban, which used to be a tin mining centre and formerly known as Sungai Ujong, has a population of 619,100 people.
According to the secretary of the Negeri Sembilan branch  of the Malaysian Historical Society, Sudin Kamari, Sungei Ujong was the first settlement in Negeri Sembilan was opened in 1773, about 247 years ago.
" Sungei Ujong was said to have been named after an incident on the felling of an old Merbau tree in Rembau. The name was changed to Seremban during the British colonial rule after a traditional game known as 'Batu Sarimban' or" Batu Seremban ", often played by the Chinese community near the Seremban railway station at the time.
"The game, also known as 'selambut" can be played in group or individually," he said in an interview with Bernama here, recently.
Sudin said the original people of Negeri Sembilan were the Ornag Asli, prior to the arrival of the Minangkabau people, bringing along the "Adat Pepatih", a custom practiced  by the community until today.
"Most of them are from villages in the area around Pagar Ruyong, like Sungai Tarap and Sumanik. Those who landed in Kuala Sungai Linggi set up settlements in Rembau and Sungei Ujong, as well as Seri Menanti.
"Those who arrived through Malacca occupied areas in Naning, Johol and parts of Kuala Pilah," he said.
Sudin said that in 1884, the colonial administration began to carry out physical development in Seremban by building roads and railway lines.
"During the British colonial period from the 1880s to the early 1900s, the early British administration used provided roads and railway lines to stir development in Sungei Ujong. This development can be seen as the British began building a network of major highways and railways.
"The area at Jalan Channer (now known as Jalan Datuk Siamang Gagap) was made the administrative center where the residence of the first English resident, Captain Murray, was built," he said, adding that this then led to the area to become a trade centre.
Following which, the British built shop houses, commercial buildings and markets as well as post office, police station and schools.
On Jan 1, the Seremban Municipal Council (MPS) was accorded city status following its merger with Nilai Municipal Council and Datuk Zazali Salehudin was appointed the first mayor.
The Seremban City Council (MBS) has 24 members, with 10 of them having been sworn in to office last Jan 2.
A ceremony will be held on Jan 20 to declare Seremban as a city and it is scheduled to be officiated by the  Yang di-Pertuan Besar Negeri Sembilan Tuanku Muhriz Ibni Almarhun Tuanku Munawir.
— BERNAMA