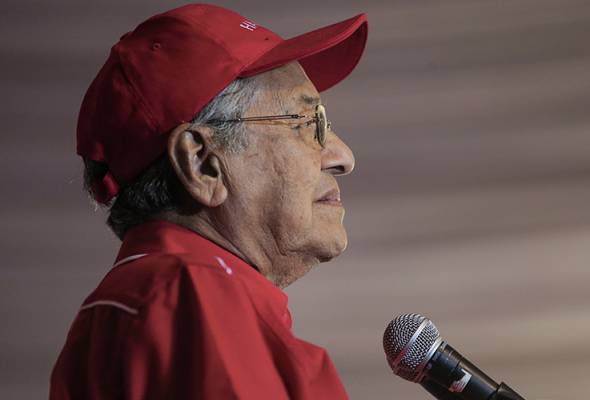 PUTRAJAYA — A special sitting of the Dewan Rakyat will be held on March 2 to determine the candidate who commands majority support to be the next prime minister, said Tun Dr Mahathir Mohamad.
The interim Prime Minister said if the House fails to arrive at a decision, a snap election would be called.
"A snap election will be called if the March 2 special Parliament session fails to get the necessary majority to elect the PM," he told a news conference after unveiling the 2020 Economic Stimulus Package at Bangunan Perdana Putra here today.
Dr Mahathir was asked about the outcome of the audience he had earlier today with the Yang di-Pertuan Agong, Al-Sultan Abdullah Ri'ayatuddin Al-Mustafa Billah Shah.
"As you know, the King had asked all Members of Parliament to give a statement because they have  made a statutory declaration but he is not sure so he wants them to make a statement in front of him.
"And, for two days … the result is that he cannot find anybody with a distinct majority and, because he did not get a distinct majority, he said that the right forum would be the Parliament or Dewan Rakyat," he said.
Elaborating, Dr Mahathir said he would accept whoever commands the majority as the prime minister.
"I will not be the prime minister if I'm not named as a candidate," said the 94-year-old statesman, who resigned as the seventh prime minister on Monday.
His resignation as the prime minister and Bersatu chairman caught everyone by surprise as he had repeatedly said he wanted to stay on as the PM until after Malaysia hosts the APEC meeting in November.
The King subsequently appointed Dr Mahathir as the interim prime minister and revoked the appointments of the deputy prime minister, ministers, deputy ministers and political secretaries.
On the proposed unity government, Dr Mahathir said anyone who can pull off the majority support would be in the position to become the prime minister and choose his own Cabinet members.
He said that in this government, every MP would have the chance to be selected as a Cabinet member as long as they are qualified, and this included independent MPs.
"Although, they (MPs) come from parties or non-parties, they will come as individual members.
"Of course, they will still have connection with their parties but they cannot represent their parties. They will serve in their portfolios," he said.
— BERNAMA