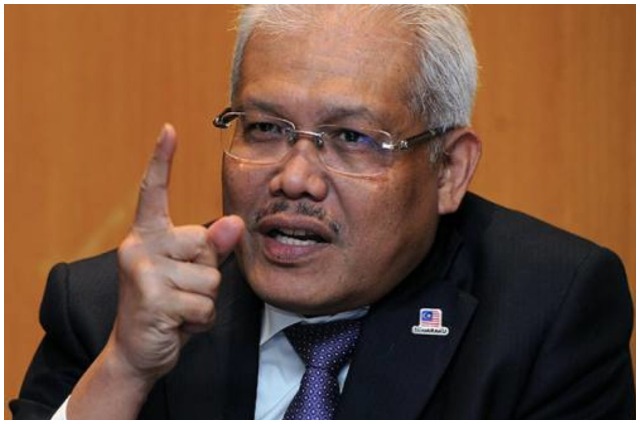 KUALA LUMPUR — Parti Pribumi Bersatu Malaysia (Bersatu) secretary-general Datuk Seri Hamzah Zainuddin today stressed that former Bersatu chairman Tun Dr Mahathir Mohamad and four other Members of Parliament (MPs) were not sacked by the party but had their membership automatically nullified for breaching the party constitution.
Hamzah said the membership of Dr Mahathir, Bersatu deputy president Datuk Seri Mukhriz Mahathir, supreme council member Dr Maszlee Malik, Armada (Youth) chief Syed Saddiq Syed Abdul Rahman and Datuk Amiruddin Hamzah had automatically ceased after they sat with the opposition bloc in Parliament on May 18.
"I was saddened when Tun Dr Mahathir and four other Bersatu MPs decided not to be with the government bloc during the Parliament sitting on May 18.
"This matter was not only stated in their own application letters but also demonstrated by their sitting in the bloc which did not support the government during the Parliament meeting," he told a news conference at the Bersatu headquarters here.
He said that according to the party constitution, one's membership will be automatically nullified under Clause 10.2.2 if the person declares his exit from the party and under Clause 10.2.3 for joining or becoming a member of another political party.
Hamzah said the party had also received many complaints of misconduct against these five leaders, including Dr Mahathir for announcing that he would remain with Pakatan Harapan (PH) after the Perikatan Nasional (PN) government was formed under the leadership of Bersatu president Tan Sri Muhyiddin Yassin.
"Apart from that, Tun Dr Mahatihir on May 4 also made a joint statement with heads of PH parties calling for extension of Parliament sitting. In fact, he even submitted a motion of no confidence against the prime minister, who was legally appointed by the Yang di-Pertuan Agong," Hamzah said.
He said Dr Mahathir had also held a press conference at Perdana Leadership Foundation in Putrajaya together with several PH leaders declaring they would continue with efforts to topple Muhyiddin as the prime minister.
Hamzah said Dr Mahathir and the other four Bersatu leaders need not be referred to the party's Disciplinary Board for action.
He said board chairman Tan Sri Megat Najimuddin Megat Khas had said that their wrongdoings were no longer relevant to be referred to the board because their membership had been automatically nullified under Clauses 10.2.2 and 10.2.3.
Notices had also been sent to the five to inform them of their position in the party, he added.
Asked on the status of Datuk Marzuki Yahya as secretary-general, Hamzah said Marzuki had lost his post on March 18 via a notice signed by Muhyiddin as the acting chairman and president of Bersatu.
"On March 26, I was appointed as the new secretary-general replacing Marzuki, and in this regard all statements and directives issued by Marzuki claiming to be still Bersatu secretary-general are invalid and an abuse of power," he said.
Therefore, Hamzah said the letter signed by Mazuki yesterday to remove Kapten (B) Muhammad Suhaimi Yahya as Bersatu executive secretary was not valid.
The letter, which has gone viral on social medai, said Muhamad Suhaimi had been sacked for breaching the party's work ethics and constitution.
The letter said action was taken against Muhamad Suhaimi for making administrative decisions and issuing letters on termination of membership without referring to the secretary-general, who is the chief administrator of the party headquarters.
"The appointment of the executive secretary was done by the party president and chairman and only he can sack him," Hamzah said.
— BERNAMA