COMMENT BY YB GANABATIRAU VERAMAN, STATE ASSEMBLYMAN FOR KOTA KEMUNING, SELANGOR AND EXCO MEMBER, SELANGOR STATE GOVERNMENT
The world education system is constantly changing to suit the needs and current environment in order to see positive changes as well as progress to create a better future for our people. Education should prepare a child to blend his natural skills with the knowledge acquired through his/her formal education. Only by this way we can ensure that future generations are well-equipped with necessary knowledge to face the challenges lies ahead.
However, learning history is equally vital because only through past we can learn how to manage our future. History talks about experiences and the struggle of our forefathers and other world leaders that shaping the world today. As history taught us, even great civilisations have been destroyed because of greediness, power struggles, jealousy, lies and manipulation of the facts. I think, currently, Malaysia is taking this path by fabricating and manipulating the real facts of history. Soon or later, Malaysia might end up being destroyed by her own people.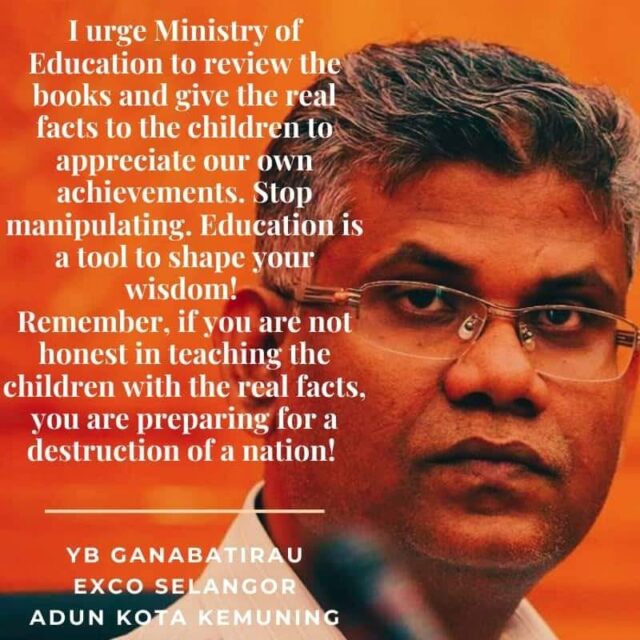 The struggles and contributions of the Chinese, Indians, Sabahans and Sarawakians are being erased from Malaysia's history. The history, in Malaysia, only talks about sacrifices of one particular community from beginning. All the historical information, according to our history books, belongs to one community. Oh Yes, I forgot! What can we expect from people who wiped out the real name of a Prince who opened Melaka from the current text book! It puzzles me why everything need to be claimed yours when early history clearly mentioned it otherwise. This is equivalent to plagiarism. Please understand! The narration in the past was different.
You can twist and claimed the history to glorify one particular community and to satisfy your false expectations, but facts will remain as it is. In the digital world, people can easily get the real facts immediately. When it happens, the future generations will spit on your face.
I urge Ministry of Education to review the books and give the real facts to the children to appreciate our own achievements. Stop manipulating. Give freedoms for the authors to do full research to write quality books. Education is a tool to shape your wisdom! Remember, if you are not honest in teaching the children with the real facts, you are preparing for a destruction of a nation!