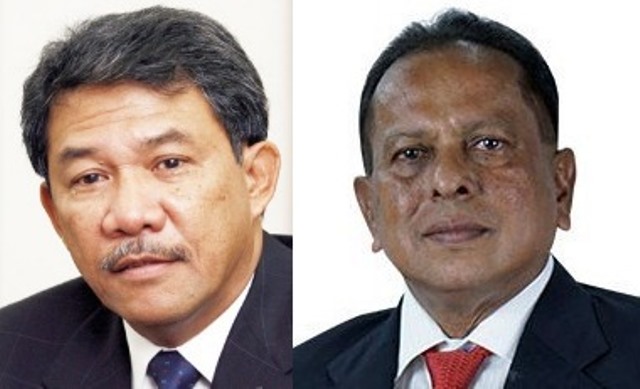 KUALA LUMPUR — The returning officer for Rantau state constituency, Amino Agos Suyub, and the Election Commission (EC) today failed in their bid to strike out the lawsuit filed by PKR candidate Dr S.Streram over an alleged misfeasance during the nomination process which caused him to be disallowed from contesting for the Rantau state seat in the 14th General Election.
High Court Judicial Commissioner Darryl Goon Siew Chye made the decision in chambers after hearing further submissions on the preliminary objection by Amino Agos and the EC against Dr Streram's suit.
Lawyer Mohamed Haniff Khatri Abdulla representing Dr Streram told reporters after the proceedings that the court made the decision to allow Dr Streram's suit to proceed to full trial on the grounds that the case was different from any other election petitions filed before.
"Another reason is in relation to the exemption clause, that the EC officials cannot automatically deny the court's power to hear misfeasance cases," the lawyer said.
He said the court then set Nov 2 for further case management and ordered the defendants to file their statements of defence before or on that date.
Dr Streram, 63, and anaesthetist, filed the suit on May 7 with Amino Agos and the EC named as defendants.
In his statement of claim, Dr Streram said that the defendants had denied him the right to contest the Rantau state seat in the May 9 general election.
Datuk Seri Mohamad Hassan, the then Negeri Sembilan menteri besar, won the seat unopposed.
In his statement of claims, Dr Streram said he paid his nomination deposit of RM5,000 and RM3,000 for his campaign material deposit on April 25.
He claimed that at no time did the EC inform him that name tags or entry passes were needed for the candidate and his representatives to enter the nomination hall on April 28.
Besides, Streram also lodged two police reports against the returning officer and the EC under Section ​​​​​​​124B and 124C of the Penal Code for disrupting the democracy process by disallowing him to contest.
— BERNAMA