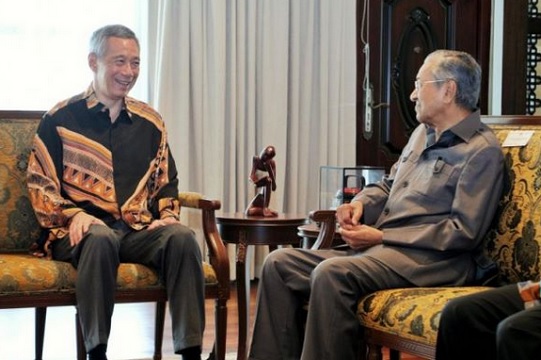 SINGAPORE — Prime Minister Tun Dr Mahathir Mohamad is in the island city-state Singapore for a two-day official visit, during which he will join nine other heads of government for the 33rd ASEAN Summit.
His visit to the republic is at the invitation of his Singapore counterpart Lee Hsien Loong, where the two leaders will sit together for the first time for a bilateral meeting, to be held at  the The Istana.
The aircraft carrying the Dr Mahathir and his wife,  Tun Dr Siti Hasmah Mohd Ali, landed at the VIP Complex of Changi Airport here at 8.40 am.
The visit is part of Dr Mahathir's high-level introductory visits to ASEAN countries after being sworn in as the 7th Prime Minister of Malaysia in May.
Receiving him at the airport were Singapore Minister for National Development Lawrence Wong, Singapore High Commissioner to Malaysia Vanu Gopala Menon and  Malaysian Foreign Affairs Minister Datuk Saifuddin Abdullah.
A welcoming ceremony will be held for Dr Mahathir at the Ceremonial Plaza, The Istana,  after which, he would pay a courtesy call on Singapore President Halimah Yacob.
Lee and his wife, Ho Ching,will then host an official lunch for Dr Mahathir and Dr Siti Hasmah and then attend the ASEAN Business Awards 2018 Gala Dinner at The Ritz Carlton.
Dr Mahathir is also scheduled to meet the Malaysian diaspora in Singapore at Shangri La Hotel.
Besides Saifuddin, also accompanying Dr Mahahthir during the visit are Minister of Economic Affairs Datuk Seri Mohamed Azmin Ali, International Trade and Industry Minister Datuk Darell Leiking and senior officials from the Prime Minister's Office ,as well as Wisma Putra.
— BERNAMA