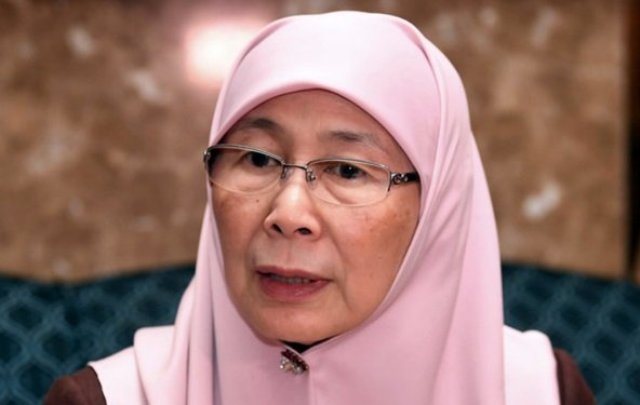 LONDON — Datuk Seri Dr Wan Azizah Wan Ismail arrived here Wednesday for a three-day official visit to the United Kingdom.
The aircraft carrying the Malaysian deputy prime minister touched down at the London Heathrow Airport here at 3.25 pm local time (Malaysia is eight hours ahead of United Kingdom).
She was met upon arrival at the airport by Malaysian High Commission Charge d'Affaires ad interim.Mohd Suhaimi Jaafar and wife Fazdiana Daud.
At the hotel where she is staying, Dr Wan Azizah was greeted by Deputy Foreign Minister Senator Datuk Marzuki Yahya and officials from Women, Family and Community Development Ministry and heads of department of the Malaysian High Commission here.
This is Dr Wan Azizah's  maiden official visit to the UK after being appointed deputy prime minister on May 21 following Pakatan Harapan's victory in the last general election.
Dr Wan Azizah, who is also Women, Family and Community Development Minister,  is scheduled to deliver a keynote address at the World Muslim Leadership Forum (WMLF) 2018, a biennial two-day forum that gathers policy leaders, parliamentarians, experts and scholars, interfaith community, activists, development practitioners and corporate leaders.
Having a tight programme during the visit, her itinerary includes a visit to Oxford Centre for Islamic Studies (OCIS), which is about a two-hour drive from metropolitan London, and participate in a discussion with scholars.
Dr Wan Azizah will also be meeting Malaysians residing in UK at a dinner to be held at the Malaysian High Commission here.
On Friday, Dr Wan Azizah is scheduled to have a series of meetings with several well-known Islamic scholars and is slated to meet Lord Ahmad of Wimbledon, who is also the Minister of State for the Commonwealth and the United Nations and the Prime Minister's Special Envoy on Freedom of Religion or Belief.
Dr Wan Azizah will also participate in a roundtable discussion session with prominent investors and British companies, which is organised by Asia House. Other programmes scheduled for her is to visit the London Central Mosque Trust and the Islamic Cultural centre and meeting with local Muslim scholars.
— BERNAMA