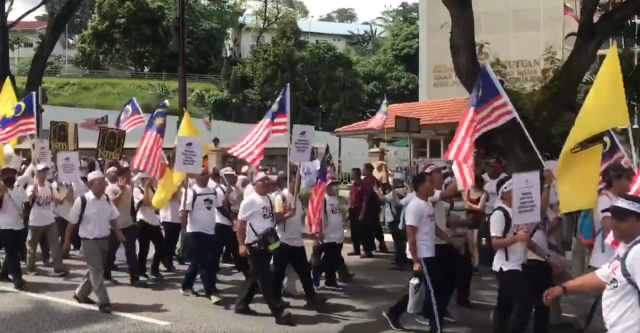 KUALA LUMPUR – (As at 1.00 pm) Participants of the the anti-International  Convention on the Elimination of All Forms of Racial Discrimination (ICERD) thanksgiving rally have began converging to areas at Jalan Raja, where the event is to be held, at noon today.
A survey by Bernama, found them gathering at several locations, including in front of a shopping centre at Jalan Tuanku Abdul Rahman, at the Masjid Jamek LRT station as well as the compound of the National Mosque at early as 10 am.
Policemen have been stationed in the affected areas to monitor the situation.
Earlier, a silat group handed over a memorandum against ICERD to a representative of Istana Negara outside the palace ground and then dispersed.
The security situation is general under control.
The rally organiser was reported to have said that the rally was held to show gratitude following the government's decision to not ratify the convention and to continue to uphold the Federal Constitution.
Last Nov 23, the Prime Minister's Office, in a statement, said the ​​​​​​​Pakatan Harapan government would not ratify ICERD and would instead continue to defend the Federal Constitution which contained a social contract that had been agreed by all races during the formation of the country.
— BERNAMA