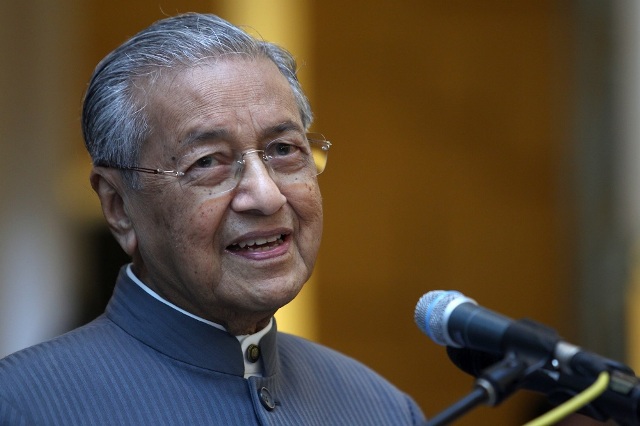 CYBERJAYA —  Parti Pribumi Bersatu Malaysia (Bersatu) will not spread its wings to Sabah, says party chairman, Tun Dr Mahathir Mohamad today.
"No, we are not going to form any party in Sabah. The people in Sabah can choose their party," said the prime minister when asked by the media on the possibility of Bersatu spreading its wings to Sabah.
He was met after a dialogue organised by the Malaysian Industry-Government Group for High Technology  (MIGHT) here.
Prior to this, Bersatu president Tan Sri Muhyiddin Yassin was reported to have said that there were requests for Bersatu to go to Sabah  following the action by 14 Sabah UMNO elected representatives and senior leaders in quitting the party.
On former Melaka Chief Minister Tan Sri Rahim Thamby Chik's application to join Bersatu, Dr Mahathir said Bersatu would accept him if it finds him suitable.
"We cannot accept everybody. Some people we have to screen first," he said.
On Nurul Izzah Anwar's resignation as PKR vice-president, Dr Mahathir said the Permatang Pauh Member of Parliament had her own reasons for doing so.
"I am not from PKR I do not know. She must have her reason. I don't know anything about what is happening in PKR," he added.
Nurul Izzah today announced her resignation as PKR vice-president and the party's Penang chief.
On his political secretary Muhammad Zahid Md Arip being linked in the corruption case involving former Felda chairman Tan Sri Mohd Isa Abdul Samad, Dr Mahathir said it was just an allegation.
"We have to wait until he has been tried and found guilty. Only then we can say he is guilty," he added.
Meanwhile, PKR deputy president Datuk Seri Mohamed Azmin Ali, when asked about Nurul Izzah's resignation from party posts,  said he had just received information about it.
"I just got the news and will see her to ask what happened," he added.
— BERNAMA