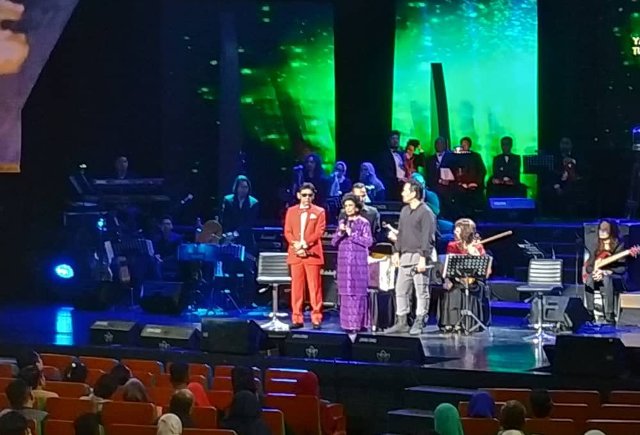 KUALA LUMPUR – Tun Dr Siti Hasmah Mohamad Ali last night dedicated her violin performance that mesmerised the crowd at the 'Duo Lagenda' concert at the Istana Budaya here to fallen fireman Muhammad Adib Mohd Kassim.
At the start of the performance, the prime minister's wife alluded to Muhammad Adib's wedding that was never meant to be.
"There would certainly have been a wedding ceremony in a village in Kuala Kedah. But this was not to be as the would be groom was called to be with his Maker.
"We pray for the well-being for his family and hope that they accept what has been fated by Allah,"said the wife of Tun Dr Mahathir Mohamad.
The appreciative crowd rewarded her 20-minute performance with a standing ovation.
Muhammad Adib, 24, who suffered injuries after being assaulted while taking part in a firefigthing operation during the Subang  Jaya temple riot on Nov 27, died at the National Heart Institute on Monday (Dec 17).
Beginning her performance at 10.40 pm, Dr Siti Hasmah delivered a solo performance of Fatwa Pujangga during a special segment of the special concert featuring renowned artistes Datuk Jamal Abdillah and Datuk M. Nasir.
She also accompanied Jamal and M. Nasir when they performed the songs Engkau Laksana Bulan and Gubahanku.
Dr Siti Hasmah had begun her performance by asking the audience to recite Al-Fatihah for Muhammad Adib.
The concert also featured Australian singer Cassidy Anderson.
Also present to witness the concert was Tourism, Arts and Culture Minister Datuk Mohamaddin Ketapi and Istana Budaya Director-General Datuk Mohamed Juhari Shaarani.
— BERNAMA