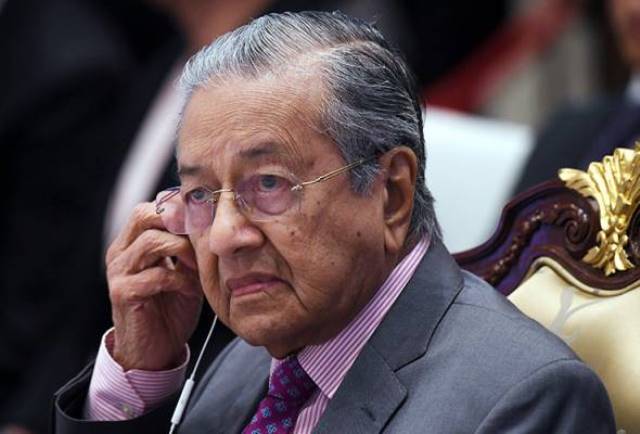 PUTRAJAYA: Tun Dr Mahathir Mohamad warned today that the government will take action against Malaysian companies operating estates in Indonesia responsible for causing the haze now choking many areas of Malaysia.
The prime minister said the government will ask them to put out the fires (in their estates) first and, if they are unwilling, action will be taken against them.
"We should make them responsible for the fires in their properties, even if it is outside Malaysia," he told a press conference after the launch of the Foreign Policy Framework of the New Malaysia, here.
Dr Mahathir said Malaysia has taken a few measures in tackling the effect of the haze, such as cloud seeding, 'confining' people in houses and closing schools, but there is also a need to find new ways to reduce the haze.
"These measures, we have taken, but we need to find ways to reduce the haze on our own. I think cloud seeding is one of them but maybe also we need to spray water in certain places to bring down the amount of haze," he said.
Dr Mahathir, when asked about an Indonesian minister's remark that the haze originated in Malaysia, said: "That is why I said we should publish a map showing satellite pictures of the hotspots."
He said he did not write any letter yet to President Joko Widodo of Indonesia on the haze issue.
Energy, Science, Technology, Environment and Climate Change Minister Yeo Bee Yin reportedly said that Dr Mahathir will be sending a letter on the haze to the Indonesian president as soon as possible.
Asked whether there is a need to close all schools up to Friday due to the haze, Dr Mahathir said that cannot be done because the Air Pollutant Index (API) differs according to location.
"We have to see the severity of the haze. It is not the same throughout the country," he said.
On India's claim that it requested Malaysia to send back Islamic preacher Dr Zakir Naik in January, Dr Mahathir said he had met Indian Prime Minister Narendra Modi but the latter did not make such a request.
"He didn't raise the issue. He did mention Zakir Naik but he didn't ask for Zakir to be sent back to India," he said.
New Delhi reportedly rebutted Dr Mahathir's assertion that India did not insist on the return of Zakir.
— BERNAMA