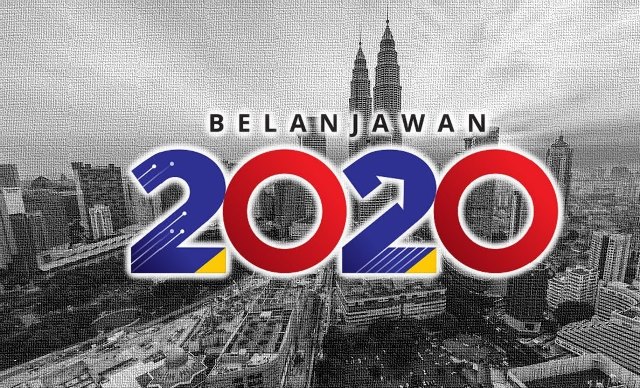 KUALA LUMPUR — Following are the highlights of Budget 2020  tabled in Dewan Rakyat today by Finance Minister Lim Guan Eng.
The budget is themed "Driving Growth And Equitable Outcomes Towards Shared Prosperity".
Budget 2020 is anchored on four thrusts;
Driving Economic Growth in the New Economy and Digital Era
Investing in Malaysians; Levelling Up Human Capital
Creating a United, Inclusive and Equitable Society
Revitalisation of Public Institutions and Finances
HIGHLIGHTS
Government does not intend to bring back GST
Government to offer a one-time RM30 digital stimulus to qualified Malaysians aged 18 and above with annual income less than RM100,000 to boost use of e-wallets.
Allocation for the Agriculture Ministry increases to RM4.9 billion in 2020 from RM4.4 billion in 2019, with special focus towards enhancing incomes of farmers.
Government proposes to increase fishermen allowance from RM200 to RM250 per month in 2020, with a total allocation of RM152 million
Government to allocate RM30 million for the production of glutinous rice in Langkawi
Government to allocate RM11 million towards initiatives by Education Ministry in collaboration with MESTECC to inculcate the Science, Technology and Innovation (STI) culture.
Government to continue to allocate 50 per cent of tourism tax to respective state governments to support their efforts in conjunction with Visit Malaysia 2020. ​​​​​​
RM1.1 billion allocation for Tourism, Arts & Culture Ministry to fulfil Visit Malaysia 2020 aspirations​​​​​​.
Government to launch Malaysians@Work initiative aimed at creating better employment opportunities for youth and women, reducing over-dependence on low-skilled foreign workers.
Graduate@Work programme to hire graduates who have been unemployed for more than 12 months. The graduates who secures work will receive a wage incentive of RM500 per month, for a duration of two years.
Women@Work programme to create 33,000 job opportunities per year for women aged 30-50 years old who have stopped working for a year or more. Wage incentive for returning women workers is RM500 per month for two years.
Wage incentive for Malaysians hired to replace foreign workers under the Local@Work programme is either at RM350 or RM500 per month, depending on the sectors, for two years.
Malaysia@Work initiative to cost RM6.5 billion over five years and create an additional 350,000 jobs for Malaysians and reduce foreign workers dependency by more than 130,000.
To ease the financial burden of parents who enrol their children in registered nurseries and kindergartens, individual tax relief for fees paid to be increased from RM1,000 to RM2,000.
Government to review the Employment Act 1955 in order to increase maternity leave from 60 days to 90 days effective 2021.
Government to review the Employment Act 1955 in order to extend the eligibility to overtime from those earning less RM2,000 to those earning less than RM4,000 per month
Government proposes to increase the minimum wage rate only in major cities to RM1,200 per month effective 2020.
Education Ministry continues to receive the largest allocation increasing from RM60.2 billion in 2019 to RM64.1 billion in 2020.
Government to increase allocation for school maintenance and upgrading works from RM652 million in 2019 to RM735 million in 2020.
Government to provide RM783 million in 2020 with focus on repairing dilapidated schools particularly in Sabah and Sarawak.
Government to allocate RM5.9 billion in 2020 on TVET.
RM1.3 billion proposed for education institutions under MARA in 2020, with a further RM2 billion for student loans benefiting 50,000 students.
RM10.9 billion allocated for rural development projects in 2020
About RM587 million to be allocated for rural water projects in 2020, out of which RM470 million for Sabah and Sarawak.
Government to spend RM500 million on rural electrification benefiting more than 30,000 rural households, with a majority of the beneficiaries living in Sabah and Sarawak.
RM1 billion to be allocated on rural roads development throughout Malaysia, primarily targeted at Sabah and Sarawak.
Government remains committed to complete the Pan Borneo Highway project, an important catalyst to economic growth in Sabah and Sarawak
For 2020, Sabah and Sarawak will  receive the largest portion of Development Expenditures amounting to RM5.2 billion and RM4.4 billion, respectively.
Government proposes to increase Special Grant rate in 2020, RM53.4 million for Sabah and RM32 million for Sarawak. The current rate is RM26.7 million for Sabah and RM16 million for Sarawak per annum.
Allocation for total subsidies and social assistance to be increased from RM22.3 billion in 2019 to RM24.2 billion in 2020.
Government to allocate RM5 billion for Bantuan Sara Hidup (BSH) and expand the scheme to cover 1.1 million single individuals aged above 40 years old who are earning less than RM2,000 per month in 2020.
All disabled persons aged 18 years old and above, with an income less than RM2,000 per month will be entitled to receive BSH payment of RM300, and qualify automatically as a recipient of the free MySalam Takaful scheme.
Tax deduction on donation for charitable and sports activities and projects of national interest currently capped at 7 per cent from the aggregate income for tax payer who are other than company, will be increased to 10 per cent
Allocation for Islamic affairs under the Prime Minister's Department will be increased to RM1.3 billion in the 2020 Budget, from RM1.2 billion in 2019 Budget.
Allowance to Al-Quran dan Fardu Ain class (KAFA) teachers to increase by RM100 a month.
RM30.6 billion to be allocated to the Health Ministry.
Starting 1 January 2020, MySalam covers 45 illnesses from the existing 36, including polio and terminal illness.
Government to expand PeKA B40 coverage to those aged 40 and above.
To support last-mile connectivity in rural and urban areas, government to subsidise bus operators with an allocation of RM146 million in 2020.
Government to allocate RM15 million for Safe City Initiative to provide outdoor lighting, parking with security features for motorcycles, anti-climb fences, and safety advocacy programmes.
RM299 million to implement Sports For All programme, including rehabilitating and upgrading of overall sports facilities, youth & sports complexes and community sports complexes throughout the country
RM179 million to be allocated for preparation in international sporting events such as the Tokyo Olympics 2020 and Hanoi Sea Games 2021
RM45 million in Budget 2020 for the National Football Development Programme, compared to the RM15 million in 2019 Budget.
RM443.9 million allocated towards flood mitigation projects and RM150 million towards the maintenance of existing flood retention ponds.
To safeguard national safety, the allocation for Home Ministry will be strengthened from RM15.6 billion in 2019 to RM16.9 billion in 2020.
Government to increase the allocation for Defence Ministry from RM13.9 billion in 2019 to RM15.6 billion in 2020.
To curb illegal gambling, government proposed a higher minimum mandatory penalty of RM100,000 for illegal gamblers, along with a minimum mandatory jail sentence of six months.
For illegal operators, a higher minimum mandatory penalty of RM1 million and a 12 month minimum mandatory jail sentence will be imposed.
Government to further increase the resources made available to the Malaysian Anti-Corruption Commission (MACC) by adding an additional 100 personnel in 2020.
Government to allocate RM10 million to undertake Risk Assessment Tests at all ministries, departments and agencies.
Cost of Living Allowance (COLA) will be increased by RM50 per month beginning 2020 for support group in the civil service.
Civil servants will be allowed early redemption of Accumulated Leaves for up to 75 days as replacement pay, for those who have at least 15 years of service.
The People's Volunteer Corps (RELA) will enjoy higher allowance of RM2 per hour beginning 1 January 2020.
14,400 personnel of the Fire and Rescue Department will receive a special allowance of RM200 a month, amounting to RM35 million.
Government to  accord a one-off payment of RM500 to 70,000 holders of Pingat Jasa Malaysia, with an allocation of RM35 million.
A special payment of RM500 for civil servants Grade 56 and below.
A special payment of RM250 for government retirees and will be extended to non-pensionable veterans.
–BERNAMA