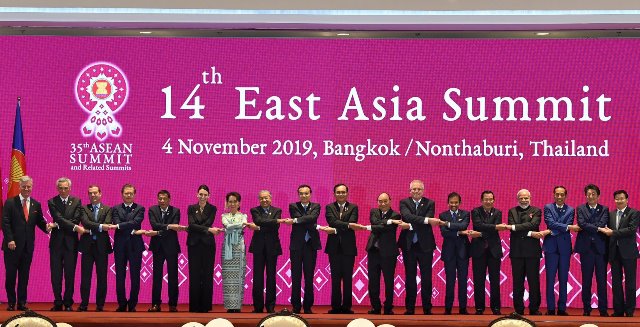 NEW DELHI — India's decision not to join the mega Asian free-trade pact has satisfied domestic protectionist demands of both government supporters and opposition parties.
India walked away from the Regional Comprehensive Economic Partnership (RCEP) on which ASEAN and five of its major trading partners reached a broad agreement in Bangkok on Monday.
Indian opposition leaders claimed their objections forced the ruling Bharatiya Janata Party (BJP) to back down from signing the terms of what is likely to create the world's largest free trade area, whereas government supporters congratulated Prime Minister Narendra Modi for protecting national interests.
The RCEP will form a trading bloc of 10-member ASEAN, China, Japan, South Korea, Australia and New Zealand.
RCEP critics in India feared that signing the deal would leave the country vulnerable to a flood of products from China, with which it had a US$53 billion trade deficit in 2018, and that it lacked safeguards to protect Indian manufacturing, dairy, agriculture and fishing industries.
Textiles Minister Smriti Irani said the textile industry was grateful to Modi for India's stand on the RCEP.
Minister of Commerce and Industry Piyush Goyal said it was a "bold and courageous decision" by the prime minister as the terms of the RCEP were "against our economic interests and national priorities."
Congress party spokesman Randeep Singh Surjewala alleged the government was "pushing to sign the RCEP agreement", ignoring national security interests and the concerns of farmers and small businesses.
"This is a victory of national interests," Surjewala said, welcoming India's refusal to join the pact.
"India has signalled to its trading partners that it cannot be treated as a dumping ground. Business can be sustainable for all if all the stakeholders benefit. This message is loud and clear," the Mumbai-based trade group Solvent Extractors' Association (SEA) of India said.
While there appears to be a sigh of relief locally over India not committing itself to the ambitious regional project, some also point out the country may be deprived of the benefits of globalisation at a time of rising protectionism in world trade.
India's decision also militates against its eagerness to find deeper market access in East Asia.
It shows that in the three decades since India embarked on economic liberalisation, local industries have not built capacities to compete with Chinese and other Asian manufacturers.
Before the Bangkok summit of leaders representing the negotiating nations, anti-RCEP voices had grown louder among opposition parties and trade lobbies.
However, it appeared until recently that the government was positive about joining the proposed bloc.
The commerce minister had spoken about India being isolated if it abandoned the project.
"If India remains out of RCEP, we will be left isolated from this large trading bloc. The trade among RCEP countries is about US$2.8 trillion. If India sits outside RCEP, whether it is in our interest or against our interest, it is also the responsibility of the government to see," Goyal told an event in western India last month, according to a news report.
Since India did not find the deal attractive in Bangkok, it may have to propose new ways to engage better with those whose interests have coalesced in the RCEP.
— BERNAMA