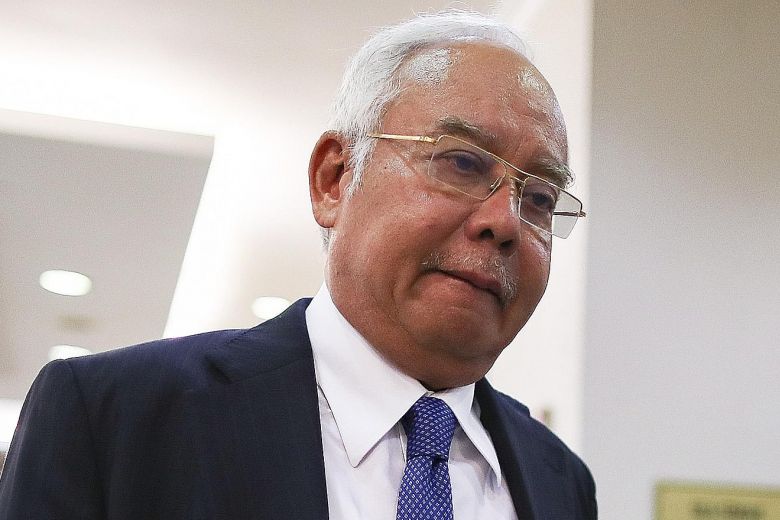 KUALA LUMPUR – The High Court here was told today that UMNO, Wanita MCA, and two companies,  namely Binsabi Sdn Bhd and Perano Sdn Bhd, had received large sum of money from the personal bank account of then Prime Minister Datuk Seri Najib Tun Razak.
Deputy public prosecutor Mahadi Abdul Jumaat said the transfer of such large amount of money from a personal account had raised suspicion.
Citing Perano Sdn Bhd, he said, the company received hundreds of thousands of ringgit in payment for scarves for a  Barisan Nasional (BN) project, whereby the payment should have come from UMNO or BN, instead of Najib's personal account.
"As for Binsabi Sdn Bhd, the company received payment for the supply of tents, also for the party use, but the payment was not from the party's account.
"How a prime minister can issue a cheque for almost RM1 million from a personal account for the payment is reasonably suspicious, while UMNO and Wanita MCA, being non-profit organisations, would have problems to generate so much income.
"Nevertheless, in this case, both parties had received more than RM200 million. How can a political party received such a huge sum of money  from a prime minister," he said.
Mahadi, who is assisted by deputy public prosecutor Samihah Rhazali, said this during hearing of the prosecution's applications to forfeit nearly RM194 million, allegedly linked to the 1Malaysia Development Berhad (1MDB) fund scandal, that were seized from the four entities by the Malaysian Anti-Corruption Commission (MCCA).
The applications were made under Section 56 (1) and Section 61 (2) of the Anti-Money Laundering, Anti-Terrorism Financing and Proceeds of Unlawful Activities Act (AMLATFPUAA) 2001, to forfeit RM192 million that was seized from UMNO, Wanita MCA  (RM300, 000), Perano Sdn Bhd  (RM337,000) and Binsabi Sdn Bhd (RM827,250).
On claims by the respondents that they had no knowledge on the source of the money they received, Mahadi said it was not a strong defence.
"At the time of receiving the money they had no knowledge on the source, but during the seizure (by MACC, they knew where it came from.
"If the money received had been fully disposed, they can forfeit to the government in two ways, either by replacing it under Section 56 of the (same) law or voluntarily returning it," he added.
Lawyer Datuk Hariharan Tara Singh, representing UMNO, submitted that the prosecution had applied the wrong provision under Section 56 and Section 61 of the law in filing the forfeit application.
"The prosecution should have filed the application under Section 55 of the law," he said, adding that when the prosecution filed the application, another High Court was still hearing Najib's 1MDB case on money laundering and abuse of power.added.
Section 55 of AMLATFPUAA empowers the public prosecutor to file the forfeiture bid after an accused person has been convicted.
Judge Mohamed Zaini Mazlan then set Feb 6 for decision.
Wanita MCA was represented by lawyer Datuk Ben Chan, while Perano by lawyers Thevini Nayagam and Habizan Habeeb Rahman, and Binsabi by lawyers Tengku Shazuan Tengku Shariffudin and Muhammad Hasif Hasan.
— BERNAMA