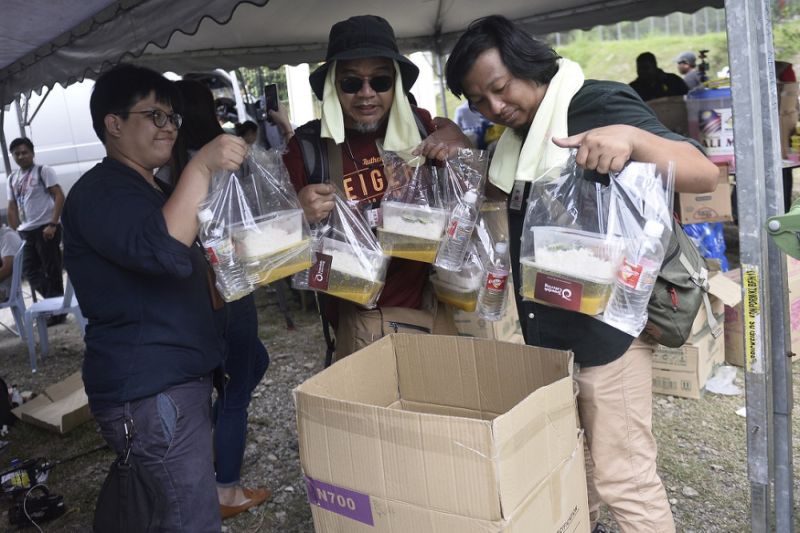 KUALA LUMPUR: If two days earlier, Al-Sultan Abdullah Ri'ayatuddin Al-Mustafa Billah Shah feted the media personnel with Kentucky Fried Chicken and McDonald's fast food, today was more special when he presented them rice with 'patin tempoyak' (Pangasius catfish in fermented Durian sauce) dish, which were specially brought from Temerloh, Pahang, for lunch.
The contribution was presented by the Comptroller of the Royal Family and Household Datuk Ahmad Fadil Shamsuddin and Restoran Temerloh Catering Restaurant, Pahang.
More exclusively, the media also had the opportunity to taste biscuits baked personally by Raja Permaisuri Agong, Tunku Azizah Aminah Maimunah Iskandariah.
In addition, a Milo and a Nescafe van were also provided at the request of the king to supply drinks to media practitioners here who were working under the hot sun since 9 am.
The concern expressed by Al-Sultan Abdullah were emulated by many corporate companies today which turned up to donate food and essentials including umbrellas, power banks and hand sanitisers to the media who had been gathering at Istana Negara resulting in a lavish and relentless attention until this evening.
Among those which also gave contributions were Hausboom, 100Plus, Nescafe, Saji, Federation of Investment Managers Malaysia, Marrybrown, Giant, Nestle, San Francisco Coffee and the Kuala Lumpur Federal Territory National Security Council.
Today 131 of the 222 members of the House of Representatives were summoned by His Majesty for an audience and interview session following the latest developments in the political situation in Malaysia.
Yesterday, the Yang di-Pertuan Agong welcomed 90 MPs to hear their views and to determine whom they were supporting in the move to form a new government.
— BERNAMA