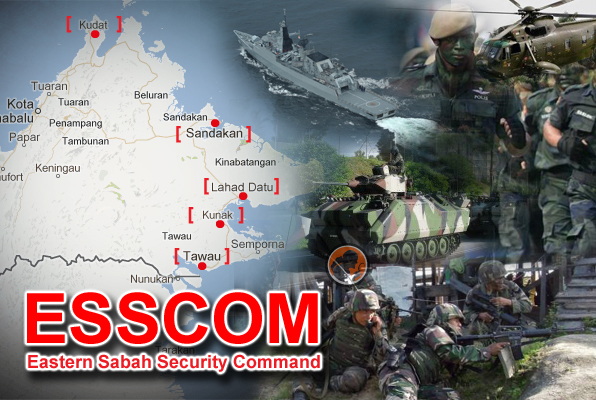 LAHAD DATU- One of the 21 criminals wanted by the Eastern Sabah Security Command (ESSCom), Ustaz Mamay Aburi, was shot dead by the Philippines' security forces in Zamboanga, Philippines last week, ESSCom commander Datuk Hazani Ghazali said.
Hazani said the success was the result of ESSCom intelligence which was shared with the Philippines-Western Mindanao Command (Westmincom), the day before Ustaz Mamay was shot dead on June 8.
He said Ustaz Mamay, who was also the Zamboanga De Norte Group's chairman, was also involved in a shooting incident with Customs personnel in the waters of Mataking, Semporna, in December last year with 50 shots fired at a Customs' boat.
"We have indeed received good support from the Philippines its efforts to curb cross-border crime such as the kidnap for ransom (KFR) which was actively perpetrated by Abu Sayyaf and its network on the maritime communities on the east coast of Sabah.
"We work closely with The Armed Forces Philippines-Western Mindanao Command (AFP-Westmincom) based in Zamboanga and the Joint Task Force (JTF) in Tawi-Tawi, Philippines, any ESSCom movement knows, we share and vice versa," he said when met at the ESSCom Office here.
Meanwhile, Hazani said ESSCom also detained three Filipinos in the Kinabatangan Sea, suspected of being 'spotters' for the KFR group on June 6.
"They were spotted by a security forces patrol. All the suspects were handed over to the security forces of the Philippines patrolling the Philippines-Malaysia border," he said.
According to him, from January until to date, three kidnapping attempts were successfully thwarted by the security forces co-ordinated by ESSCom.
Hazani said ESSCom was working to improve monitoring and security controls to curb cross-border crime such as KFR as kidnapping was the source of the group's income.
— BERNAMA