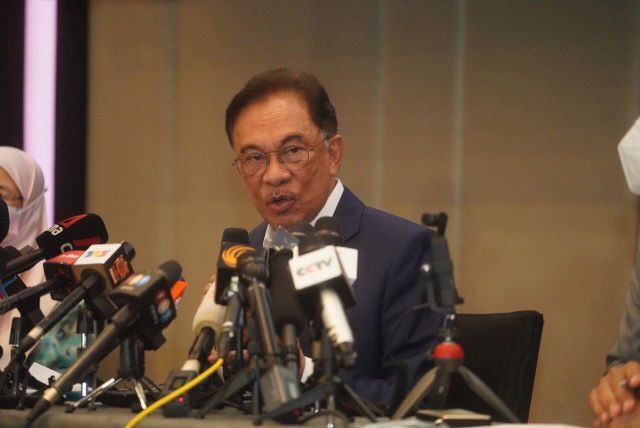 Petaling Jaya : In a press statement released today (Wednesday September 23) simultaneously with his press conference PKR President Datuk Seri Anwar Ibrahim slammed Prime Minister Tan Sri Muhyiddin Yassin for not holding a single press conference since taking office 7 months ago.
Anwar also claimed that he has convincing, formidable majority of Parliament members to form the next government and to be appointed as 9th Prime Minister of the country.
The following is the full text of Anwar Ibrahim's press statement:
I would like to thank the media for joining us today on short notice.
The people of Malaysia deserve leadership which can navigate effectively during these turbulent times.
Instead, we have an unstable government whose inability to handle the
crisis is driving the country towards an economic recession and rising racial tension.
We have not seen it mobilize all the country's resources and capabilities to face the crisis head on. What has happened, instead, is the government has been busy distributing positions, appointments and contracts in order to cling to extremely bare and razor-thin majority in Parliament.
It is difficult for us to know what the 70 ministers are doing. We have never been informed about the deliberations taking place in the Cabinet. Until now – seven months after taking office during a unprecedented national and international crisis — the Prime Minister has not held a single press conference following his regular Cabinet meeting.

I have been approached by a number of MPs from various parties who expressed their deep dissatisfaction with the current leadership. They recognize that the country must have strong, stable and accountable leadership to manage the crisis and to do so with compassion and concern for the plight of all people who are struggling in this pandemic economy. They have expressed their support for me to take over the government now.
I have received convincing support from Members of Parliament for me to present to His Majesty the Yang Dipertuan Agong. I wish to state here that the majority of MPs supporting me are Malay and Muslim.

I would like to mention that I was granted an audience to meet His Majesty Yang diPertuan Agong yesterday, Tuesday 21 September at 11 am. The meeting was postponed due to the fact that he was being treated the National Heart Institute.
However, through a telephone conversation on Tuesday night I prayed for his speedy recovery and health.

With a clear and indisputable support and majority behind me, the government led by Tan Sri Muhyiddin Yassin has fallen. I will meet with the Yang di-Pertuan Agong when he regains his health and will provide more information to the public about what happens next.

This government will represent all people, with majority Malay-Bumiputra and fair representation of all races in this country. We are commited to uphold the principles of the constitution that recognises the position of Islam, the sovereignty of the Malay rulers and uphold the position of the Malay language as the official language and the special position of the Malays and Bumiputra as well as give assurance to defend the rights of all races.

Lastly, I would like to say to all Malaysians: I promise to form a government with integrity and commitment to address the crisis that befell the country, and put an end to corruption and fight for the wellbeing of the people. Insha'Allah I will fulfill my promise to make Malaysia a prosperous, peaceful and just country for all its people.