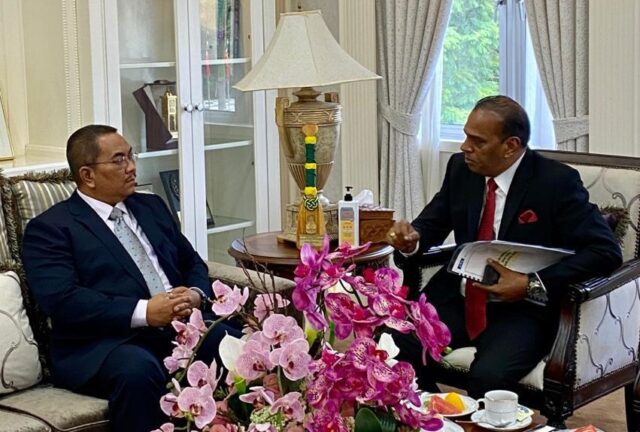 MEDIA STATEMENT BY DATUK SERI M.SARAVANAN, HUMAN RESOURCES MINISTER & DEPUTY PRESIDENT, MIC, DATED 03 DECEMBER 2020
1. PAS-led Kedah Menteri Besar Muhammad Sanusi Md Nor failed to keep a promise made to two-federal ministers in July, 2020 by allowing the demolition of a Hindu temple in the state recently.
2. It must be reiterated that Minister in the Prime Minister's Department in charge of National Unity, Datuk Halimah Mohamed Sadique and myself as Minister of Human Resources and also in my capacity as MIC Deputy President had met the Kedah Menteri Besar on 26 July, 2020, to discuss the matter of Hindu temples in the state.
3. During the round-table discussion, the Kedah Menteri Besar had promised to inform both, Datuk Halimah and me, if there were any temples to be demolished prior to any enforcement.
4. This assurance was given not only for Hindu temples but also for all places of worship in the state.
5. However, it came as a shock to me to learn that the Menteri Besar had blatantly disregarded the promise and continued the demolition of a temple in the state recently.
6. I am certainly disappointed with the Menteri Besar's unilateral action to demolish the temple despite his promise to two federal ministers during the July meeting.
7. This goes against the spirit of a national coalition government and any decline in Indian support for the ruling coalition in the future would be due to these sort of deceitful actions by the Kedah Menteri Besar.
8. Issuing statements without explaining what had transpired is tantamount to misleading the rakyat.
9. The Kedah Menteri Besar should explain why the temple was demolished abruptly without consultation. It is also a blatant abuse of power bestowed on a Menteri Besar.
10. I urge the Menteri Besar to clarify his stand on temples and places of worship in Kedah.
11. MIC has been in contact with several national PAS leaders on the matter, wanting an explanation on the issue. We also want PAS to show that they are a government for all races and religion in this beloved nation.