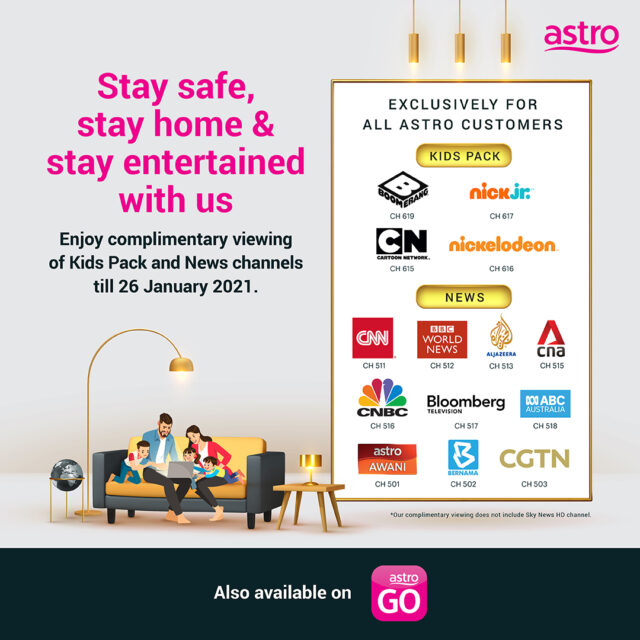 Kuala Lumpur – To keep customers entertained and informed during the MCO/CMCO, Astro will offer complimentary viewing of all Kids Pack and News channels (except for SKY News) from now till 26 January 2021 on TV and Astro GO.
The young ones will be able to enjoy countless of hours of the best kids' entertainment on Cartoon Network (Ch 615 HD/ Ch 635), Nickelodeon (Ch 616 HD/ Ch 636), Nick Jr. (Ch 617) and Boomerang (Ch 619) including Ben 10, The Powerpuff Girls, Adventure Time, We Bare Bears, SpongeBob SquarePants, Teenage Mutant Ninja Turtles, Mr. Bean: The Animated Series, My Little Pony: Pony Life, Scooby-doo! Guess Who?, The Tom & Jerry Show, The Looney Tunes Show, Barbie Dreamhouse Adventures, Paw Patrol, Dora the Explorer, Top Wings, Shimmer and Shine, Blue's Clues & You and much more.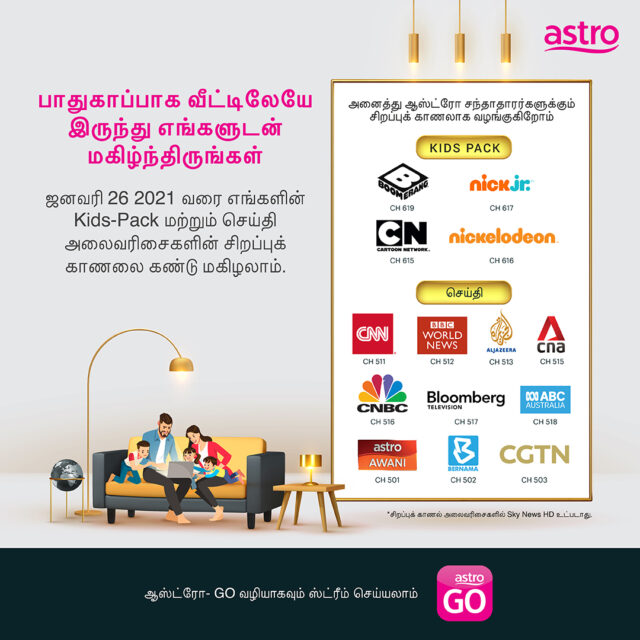 In addition, Astro customers can keep updated on the latest breaking news and current affairs in Malaysia and globally on all News channels except for SKY News till 26 January 2021. Complimentary viewing of the News channels include CNN (Ch 511 HD/ Ch 531), BBC World News (Ch 512 HD/ Ch 532), Al Jazeera English (Ch 513 HD/ Ch 533), Channel News Asia (CNA) (Ch 515), Bloomberg TV (Ch 517), CNBC Asia (Ch 516), ABC Australia (Ch 518) and Astro Awani (Ch 501).
For more information on this free preview, please visit www.astro.com.my.
Channels available to all Astro customers during this complimentary viewing period:
Kids Channels
• Cartoon Network (Ch 615 HD/ Ch 635)
• Boomerang (Ch 619) • Nickelodeon (Ch 616 HD/ Ch 636)
• Nick Jr. (Ch 617)
News Channels
• Astro Awani (Ch 501)
• Bernama News Channel (Ch 502)
• CGTN (Ch 503)
• CNN (Ch 511 HD/ Ch 531)
• BBC World News (Ch 512 HD/ Ch 532) • Al Jazeera English (Ch 513 HD/ Ch 533)
• Channel News Asia (CNA) (Ch 515)
• CNBC Asia (Ch 516)
• Bloomberg TV (Ch 517)
• ABC Australia (Ch 518)