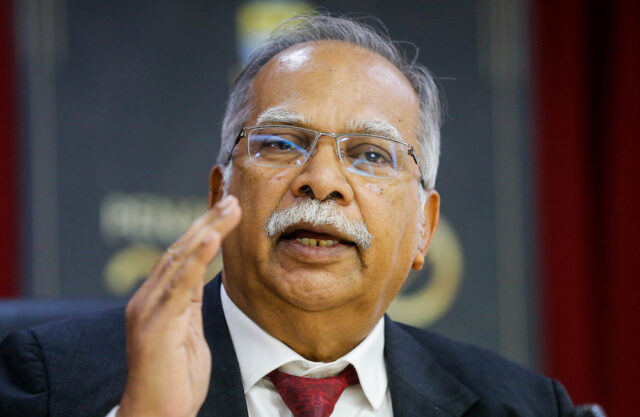 George Town – Prof Dr P.Ramasamy, Deputy Chief Minister II of Penang, has called for investigations into the misbehavior of health officials at KLIA.
"Mahlindo Airlines rescue flight (OD 224) with 35 Malaysians and four Indian nationals took off from Trichi Airport in India and landed in KLIA on May 13, 2021 at 9 pm.
Once landed, the passengers could not believe the kind of treatment that they were subjected to by the staff and doctors of the ministry of health who were stationed at the arrival center. A Malaysian woman and her husband, an Indian national, were shocked that the health officials could scold and harass them to the maximum" Ramasamy said on his facebook posting.
"There were no reasons to subject the forlorn passengers to such military scrutiny as they were enemies of the state. The Malaysian woman and her husband were told to come up with certain amount for foreign national management fee, quarantine for 21 days, and swab test which came to RM6,400.00. Since the couple did not have the required amount, they had to seek assistance from their relatives. Even a kind stranger took pity on them to assist in making the payment.  They were threatened by the head doctor that if they did not raise the required amount, they will detained and then handed over to the immigration to be deported to India in the next flight" Ramasamy further noted on his post.
"A Malaysian national threatened with deportation by the health officials! How preposterous! How ridiculous! Luckily the couple was able to raise the required amount before they were driven off to the quarantine centre. On their arrival and the hours that the couple and others spent at the KLIA, it was a plain nightmare for all the 39 passengers. If returning Malaysians were subjected such obnoxious treatment, then can just imagine the sad and tragic fate of the four Indian nationals. Malaysia's immigration officials are known to be rude and unkind but mostly to foreigners especially members of the working class. However, under the impact of the Covid-19 pandemic, health officials have become rude and uncouth. The behaviour of the health officials at KLIA suggest that they are responsible to none. Yes, they might be front-liners and so on, but such such a role does not give them the right to misbehave. I hope the Minister of Health will swiftly investigate the misbehavior of health officials at KLIA especially what really happened on the night of May 13, 2021" Ramasamy said.