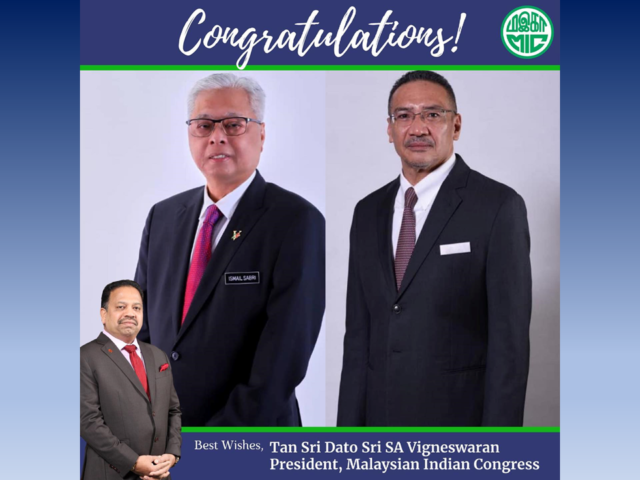 COMMENT BY MIC PRESIDENT YANG BAHAGIA TAN SRI S.A.VIGNESWARAN ON THE APPOINTMENT OF DATUK SERI ISMAIL SABRI YAAKOB AS DEPUTY PRIME MINISTER AND DATUK SERI HISHAMUDDIN HUSSEIN AS THE SENIOR MINISTER
MIC, as a Barisan Nasional component party, welcomes the announcement of the appointment of Defence Minister YAB Datuk Seri Ismail Sabri Yaakob to the post of Deputy Prime Minister and Foreign Minister Datuk Seri Hishammuddin Hussein to the post of Senior Minister.
We would like to thank Prime Minister Tan Sri Muhyiddin Yassin for acknowledging the Barisan Nasional as the biggest bloc of support to the Perikatan Nasional government.
MIC also appreciates the magnanimous attitude of the other parties in Perikatan Nasional government for allowing Barisan Nasional to hold the DPM post, despite the fact Barisan Nasional is currently not a component of the Perikatan Nasional coalition.
We believe Datuk Seri Ismail Sabri is most fitting as he is the most senior Umno minister. Datuk Seri Hishamuddin Hussein also will be an asset to Perikatan as a Senior Minister with his past ministerial experiences.
MIC hopes that these two appointments will further strengthen the Perikatan Nasional government and will put to rest all the politicking, as the government focuses on fighting the pandemic and economic situation.