Media Statement by YB Ganabatirau Veraman (pic), EXCO Member Selangor State Government & State Assemblyman for Kota Kemuning
I was shocked to read a revelation by Denison Jayasooria on September 3rd about the missing Indian's voice from the 12th Malaysia Plan.
This 12th Malaysia Plan will be tabled in the Parliament on 27th September. It is sad to hear that Indians were not consulted or involved in the planning of the 12th Malaysia Plan.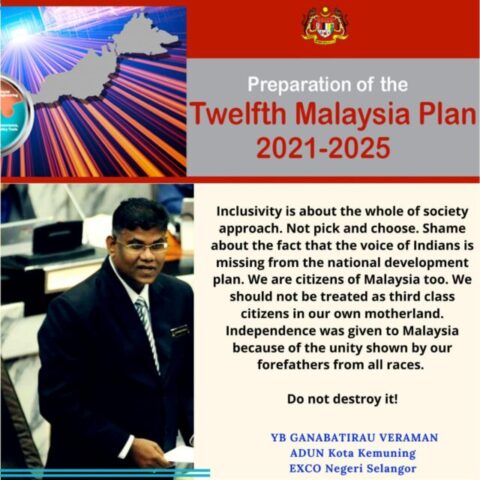 As we are aware, Malaysia Plan is a master plan that highlights the strategies and action plan of economic development for a period of 5 years. Currently, Malaysia is following Eleventh (11th) Malaysia which was unveiled by the former Prime Minister of Malaysia, Dato' Sri Najib Tun Razak in the year 2015 and will be ending in the year 2020.
According to May and Jochim, 2013, National policies contained strategies, plan of action and other implementation agenda that can contribute to the development of a sector in a specific time frame. It is a holistic development plan, but the voiced of all groups are unheard.
Why can't the government discusses the strategies, especially related to Indian community with respective Indian NGOs or the MPs or even with us, the State ADUNs. Inclusiveness is the key point of the 12 Malaysia Plan, yet Indian community's voice is systematically missed out.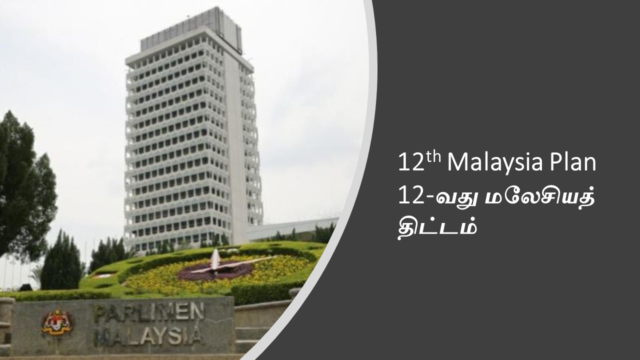 Indian Community needs development in all areas. Indians are facing unequal development in education, poverty elimination, business development, housing and many other areas. Our equity supposes to be increased to 7%, but for many years, it is still at 1.5%. Many of our children are still struggling to get a place based on merit in public universities.
Latest is the application for MARA where vernacular school students are not allowed to apply. We are left behind economically. No proper support system for business development and the list can go on endlessly.
Inclusiveness is about the whole of society approach. Not pick and choose. Shame about the fact that the voice of Indians is missing from the national development plan.
We are citizens of Malaysia too. We should not be treated as third class citizens in our own motherland. Independence was given to Malaysia because of the unity shown by our forefathers from all races. Do not destroy it!
Government should reach out to all races to ensure our needs are taken care holistically.
If needed, postpone the presentation of the 12th Malaysia Plan in the Parliament.
At least, give assurance that our needs will be taken into account during the implementation of the 12th Malaysia Plan.
---
Join us on our Telegram channel for more news and latest updates: https://t.me/selliyal
மேலும் கூடுதலான அண்மையச் செய்திகளைத் தெரிந்து கொள்ள எங்களின் Telegram (டெலிகிராம்) குறுஞ்செயலி இணைப்பில் இணைந்திருங்கள்: https://t.me/selliyal
---