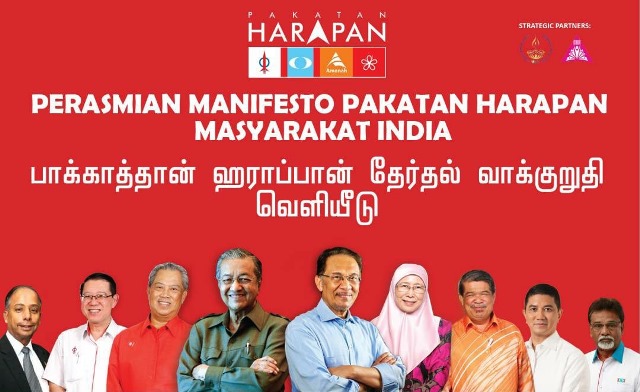 Petaling Jaya – Pakatan Harapan's PM designate, Tun Dr Mahathir today announced that the Pakatan government, once elected to form the next government will establish the first Tamil Secondary School in country.
Dr Mahathir was speaking at an event specially organised for the launch of Pakatan Rakyat's election manifesto for the Indian community.
Hindraf Chairman, P.Waythamurthy and New Gen Party President A.Rajarathnam representatives of the two Indian parties recognised as strategic partners of Pakatan, also attended the event together with several other Pakatan leaders including Dr Wan Azizah and Penang Chief Minister Lim Guan Eng.
Mahathir also announced an aid package to the tune of RM4 billion specially for the Indian community to uplift them from the current economic doldrums and to eradicate poverty.
An immediate allocation of RM100 million would be given to the Indian community immediately after the general election to set up a platform for the Indian community which will be modeled similar to "SINDA" in Singapore, Mahathir said.
The event was attended by more than 1,000 supporters.
Mahathir also promised that they have identified 25 different things to be carried out for the Indian community under the manifesto and one of the prime initiative would be to look into the problems of stateless Indians. "We will look into their issues and accordingly would find ways to issue citizenship to them" Mahathir said in his speech while launching Pakatan's special election manifesto for the Indians.
-R.Mutharasan