KUALA LUMPUR — Kelantan Pakatan Harapan (PH) chairman Husam Musa was sworn in as a member of the Dewan Negara here, today.
He took his oath of office in front of Dewan Negara president Tan Sri S.A. Vigneswaran.
Husam, who was elected by the Federal government, was supposed to be sworn in last week, however, the ceremony was postponed as he was on Haj.
On Monday, a total of 12 people were sworn in as members of the Senate, including PKR National Congress permanent chairman Ismail Yusop, Perak DAP committee member Nga Hock Cheh, Penang DAP secretary Lim Hui Ying and former Balik Pulau MP from PKR, Mohd Yusmadi Mohd Yusoff.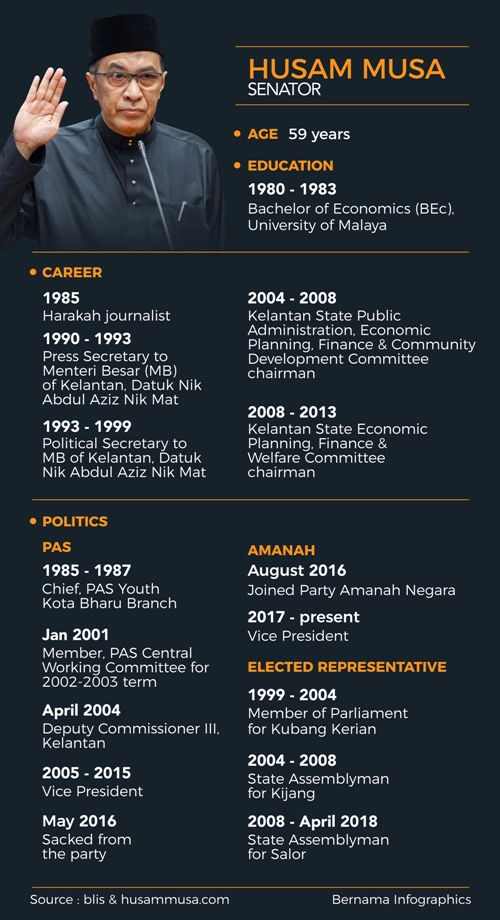 Husam, when met by reporters, thanked the Yang di-Pertuan Agong Sultan Muhammad V for consenting to his appointment.
Commenting on his new role as senator, Husam said he would assist the Government in expanding the country's economy as well as fight on issues surrounding certain states which were considered to be left behind, such as Kelantan, Terengganu and Perlis.
"I also hope that Pakatan Harapan will not marginalise these states in terms of development," he added.
— BERNAMA