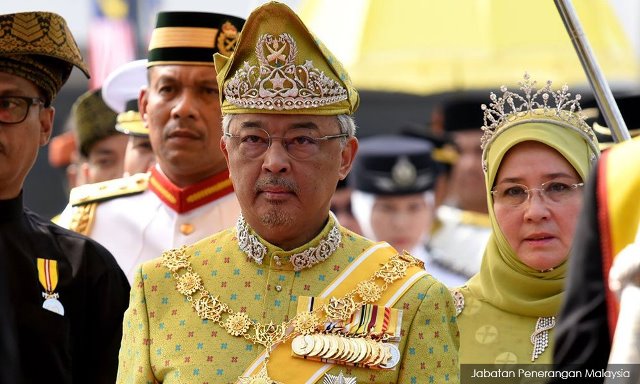 KUALA LUMPUR — Yang di-Pertuan Agong Al-Sultan Abdullah Ri'ayatuddin Al-Mustafa Billah Shah said the experience of growing up in a village made him more comfortable and spontaneous in interacting with the people, especially with the village community.
Sultan Abdullah, who was newly elected as the Head of the Country today, acknowledged that as a teenager born in the village, his early life was relatively free of protocol.
"Because we live in a village, there was no protocol at all, no bodyguard, there was no bodyguard during my schooling years. I even cycled to school sometimes.
"I was just like any other kid. Maybe that was what enabled me to spontaneously interact with villagers.
"Put it this way, I was born in Pahang, I was born in a kampung, I am a kampung boy," he said in a special documentary by Astro Awani that was aired yesterday in conjunction with the 16th Yang di-Pertuan Agong Installation Ceremony.
Touching on traits he inherited from his late father, Almarhum Paduka Ayahanda Sultan Ahmad Shah Al-Musta'in Billah, Sultan Abdullah said his love of helping the people was one of the qualities of his late father.
"My father always felt compelled to help the people. That is why I feel compelled to help in any way. Sometimes, when he was not around, I would meet and help the people. So automatically, if I don't help, I would feel very guilty and uneasy," he said.
In carrying out his new responsibilities, His Majesty said that he hoped to become a good king and emphasised on fulfilling the hopes of the people.
"What does it take to be a good King, that is very subjective. However, I think, the formula to be a good king is to reach out to the people, to win their heart, and to learn whatever, or to understand their problems and try to solve their problems. However, we may not be able to satisfy everyone, but as much as I can and able to help, I will continue to help," said His Majesty.
Sharing his views on the advancement of technology, especially the social media, 60-year-old Sultan Abdullah acknowledged that he was not deeply into today's technological advances, but felt that social media space should be used as positively as possible.
On His Majesty's wish for the National Day to be celebrated next month, Sultan Abdullah said the people should understand the significance of the day and not just celebrate it.
– BERNAMA