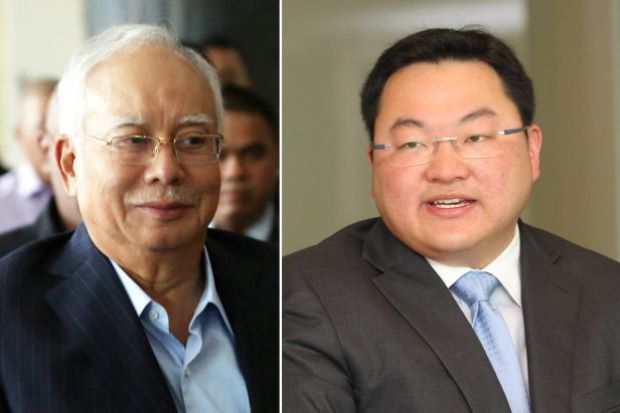 KUALA LUMPUR: The High Court here today heard that there were likely private meetings took place between former prime minister Datuk Seri Najib Tun Razak and Low Taek Jho, the fugitive businessman who is also known as Jho Low.
Datuk Amhari Efendi Nazaruddin, 43, a former special officer to Najib said this when cross-examined by Najib's lead counsel Tan Sri Muhammad Shafee Abdullah on the sixth day of the former premier's 1Malaysia Development Berhad's (1MDB ) trial.
He said his then superior Datuk Azlin Alias was the one who attended those meetings, but after Azlin passed away in 2015, the witness began to attend the meetings.
"Most of the time, Jho Low would say something and when we (Azlin) checked with Najib, it would correspond with what Jho Low had said earlier," he said.
Muhammad Shafee:  Were you present when Najib talked about confidential matters with Jho Low?
Amhari Efendi : No, I don't know who else was present, maybe it was just the two of them.
Asked about another meeting in Abu Dhabi, the witness said Najib had asked him to go there and make sure both countries do not go for arbitration.
The meeting was for private talks to settle the 1MDB's bond dispute with International Petroleum Investment Co (IPIC), without going to the International Court.
"I asked further instructions and Najib said ask Jho Low," the witness said adding that the instructions for him to go to Abu Dhabi came directly from Najib.
Amhari Efendi said when Azlin was still alive, Azlin would seek confirmation regarding 1MDB matters from Najib.
The witness also agreed with the lawyer's suggestion that Jho Low did not have any position in 1MDB.
When asked to explain how did the witness know that Jho Low was close to the accused's wife Datin Seri Rosmah Mansor, Amhari Efendi said there were several occasions during his meetings with Azlin and Jho Low at Prince Hotel, that he could hear Rosmah talking to Jho Low on the phone.
"I also met Datin Seri Rosmah and she also spoke about Jho Low. Jho Low also being invited for some private functions at Najib's private residence at No 11, Jalan Langgak Duta," he said.
Muhammad Shafee: How many people attended the functions?
Amhari Efendi: About 100 sometimes including VVIPs and politicians.
Muhammad Shafee: From there you concluded that they were close?
Amhari Efendi: Yes.
Muhammad Shafee: Do you know the nature of their conversation?
Amhari Efendi:  No, but I can hear the voice (Rosmah) as it was loud. During this time, Jho Low would say Datin Seri Rosmah called and asked us to be silent.
Najib, 66, is facing four charges of abusing his position to corruptly obtain RM2.3 billion of 1MDB funds and 21 counts of money laundering related to the money.
The Pekan MP allegedly committed the four offences at AmIslamic Bank Berhad, Jalan Raja Chulan branch, Bukit Ceylon here between Feb 24, 2011, and Dec 19, 2014, and the 21 charges, between March 22 and Aug 30, 2013, at the same place.
The trial continues before Judge Collin Lawrence Sequerah.
— BERNAMA