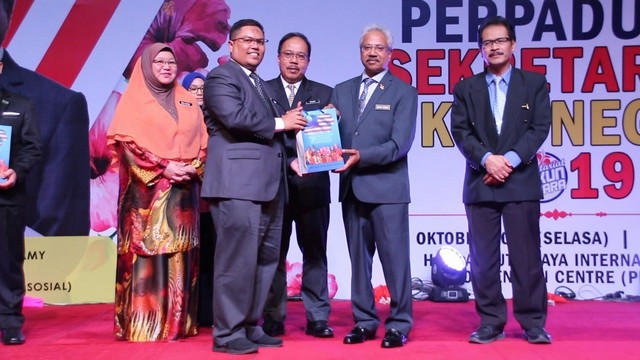 PUTRAJAYA — Minister in the Prime Minister's Department P. Waytha Moorthy called on generation Y as well as students to use social media platforms to spread the importance of appreciating the Rukun Negara to foster the spirit of unity and patriotism.
In today's border-less world, he said, the younger generation is constantly exposed to a variety of information, with the latest statistics showing that about 24.6 million Malaysians are hardcore social media users.
"Social media should not be a platform to share negative things or comments that can touch on racial sensitivities," he said in his speech when closing the 2019 Rukun Negara Secretariat  (RNS) Unity Forum at the Putrajaya International Convention Centre here today.
The one-day forum themed 'The Rukun Negara Is Not Just to Be Memorised' aims to increase knowledge of Rukun Negara among students who are members of RNS.
The RNS has been established in 169 institutions of higher learning including the Institute of Teacher Education Malaysia, matriculation colleges, community colleges and polytechnics.
Waytha Moorthy, who oversees the National Unity and Social Wellbeing portfolio, said students should use technology wisely and responsibly as well as  come up with intellectual ideas to drive the nation towards greater success and achievement.
He said the Shared Prosperity Vision recently launched by Prime Minister Tun Dr Mahathir Mohamad would only be achieved when Malaysians live up to the principles of the Rukun Negara in everyday life.
"Only via a thorough appreciation of the principles of Rukun Negara, will understanding and unity prevail," he said.
Meanwhile, when met by reporters after the event, Waytha Moorthy declined to comment on allegations by certain quarters that the Malay Dignity Congress over the weekend had become a platform to deliver hate speech and racist remarks.
"Everyone has the right to hold  peaceful gatherings and are entitled to their own opinions. If the speech (during the congress) is wrong, I understand some people have lodged police reports. Let the authorities decide what to do. I don't have to make any comments," he said.
— BERNAMA