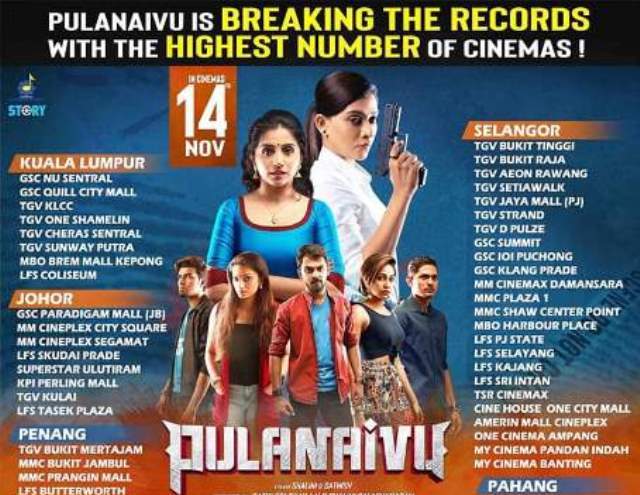 KUALA LUMPUR — A local Tamil movie entitled 'Pulanaivu' which  hit the Malaysian silver screens yesterday (Nov 14), has made a major breakthrough by incorporating the sounds of a contemporary symphony orchestra in two of its song tracks and background score.
The film's music composer, Jey Raggaveindra, 38, said it was a challenging task to programme the live string samples which were recorded overseas, in the most realistic way for the two-hour long movie.
"We used software to programme the live strings," he told Bernama, adding that the movie's initial track titled 'En Sogame', already released in social media, had received 200,000 hits so far.
The Selangor-born composer who spent three and a half months completing the compositions, sometimes working continuously for one to two days, said the use of a contemporary symphony orchestra requires the incorporation of additional sound mixing to suit the genre of a movie, compared to a typical symphony orchestra which is a large ensemble organised to perform western classical music.
Having composed music for 52 local Tamil movies to date, Jey said there were many rules and regulations for a symphony orchestra including the need for four instruments at a minimum, with each instrument displaying a different tempo and tonality.
'Pulanaivu' is a romantic crime thriller written and directed by celebrity couple Shalini Balasundaram and Sathish Natarajan.
Bankrolled by Shaibha Vision and Story Films, the film boasts a talented cast that includes Datin Seri Shaila Nair, Shalini, Kabil Ganesan, Shashi Tharan, Saran, Krithigah Nair, Shabby ,Irfan and Pashini.
The audio for the movie was launched by Malaysian National Film Development Corporation (Finas) chairman Datuk Gerald Hans Isaac on the 3rd of October at a simple ceremony in Kuala Lumpur, on Thursday.