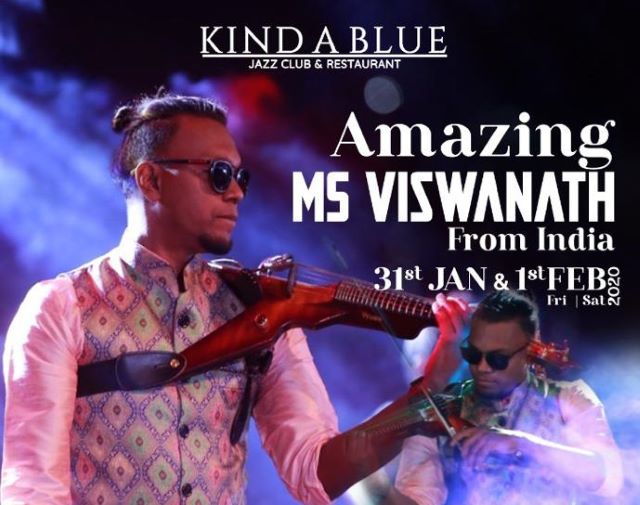 Kuala Lumpur – World renowned violinist MS Viswanath  from Kerala, India  is making his first debut  in Kuala Lumpur on 31st January and 1st February 2020  at the KL Jazz & Arts Centre ( KLJAC). Viswanath is into playing both Western classics and traditional Carnatic music.
Viswanath holds the Guinness World Records  for the  longest marathon violin performance for 36 hours. The previous record holder was Nikolay Madoyen from Armenia,  who played for  33 hours two minutes and 41 seconds.  At the marathon session, Viswanath  not  only played  Vivaldi, Bach and Beethoven,  but also Thyagaraja compositions  and made it a beautiful blend of the best of both worlds.
Viswanath started learning violin at the age of 15. He did not have any musical background when he started. Later, he realised that music was my passion and  decided to pursue it professionally.
He graduated from the prestigious RLV College of Fine Arts in Tripunithura and completed his masters there – Master of  Arts in Carnatic Violin.
Meanwhile he also started learning the Western Violin and went on to complete 8th grade and ATCL (Diploma) in Western violin from Trinity College, London. He was also interested in the Cello and self-taught to play the instrument.
He has performed live shows with many great artists like K J Yesudas, Hariharan, Stephen Devassy and Vijay Yesudas . He is also a part of many Orchestras like Canadian Symphony Orchestra, Italian Symphony Orchestra, Indian National Youth Orchestra (Delhi), Cochin Chamber Orchestra, Bangalore Symphony Orchestra.
As a recording artist for the Indian Film Industry, he has been an integral part of many chartbuster songs in various languages.
Rithuragas is a six member band which he formed with his friends. He is the lead violinist and the band has already performed for a variety of audiences. The band has won many accolades in many competitions and recently was selected to the SeaRock Waves 2019 Finals in Goa. The band gives a lot of freedom to express ourselves through our own compositions. They have created covers, their own albums which are very popular in the social media.
Viswanath is also teaching Violin to more than 300 students now through music schools and online classes. He finds time to prepare students for their grade exams, guide them specifically for any performance. He finds it exciting to gather his students to perform together in a big way – like bringing 40 of my students for a television show recently.
He is currently busy touring the World doing solo shows and also with the band taking his music to more audiences. The 7 string Mark Wood Viper Electric violin is the latest addition to his Violin collection and it is great for the rock_n_fuse genre. He is the first and probably the only 7 string performer in India.
He is working on taking his music to new places, new audiences – collaborating with other wonderful musicians – moving more closer to his fan base.
For the performance at KLJAC, Viswanath will be accompanied by drummer Shiyas  Koya who started his musical career at the age of 16. He completed the 8th grade certification in "Drums" from Trinity college of London in 2014. He became a full time drummer and musician since then and performed with bands of various genres such as The Band Wooden Shield, Halo of Flies, Adoloh, and Yuga. He performed across various stages within India and UAE with these bands.
Shiyas has also associated himself in the production of many  video and audio albums. Meanwhile as a dedicated teacher and trainer he trains around 350 students in drums across Kerala.
Shiyas is now part of the Rithuragas band and travels with the team for many performances.
Show details
The show is  at 9.00pm-11.30pm on 31st January and 1st February 2020.  Entrance  for the show is only by pre-booking  via WhatsApp  to 012-5717759.
Music charge  for the show is RM 50.00  if pre booked and paid in advance. The  music charge at the venue on the day is RM 80.00.
For more  information, please  WhatsApp to 012-5717759 or log on to the website www.klindablue.com.my