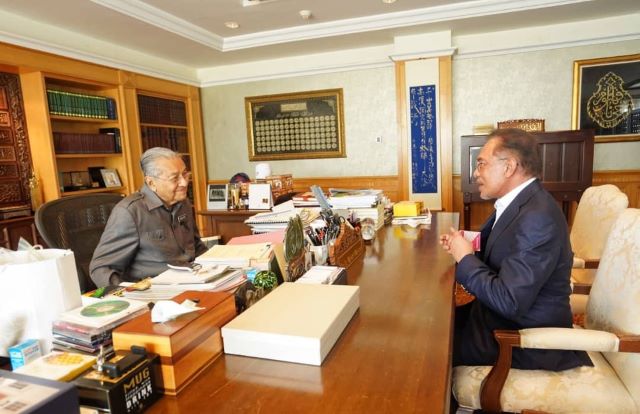 KUALA LUMPUR — Datuk Seri Anwar Ibrahim said he is willing to let Tun Dr Mahathir Mohamad lead the country until after the Asia Pacific Economic Cooperation (APEC) Summit and this matter will be decided on Feb 21.
Anwar, who is PKR president, said this would be decided at the Pakatan Harapan (PH) Presidential Council meeting on that date.
"I am inclined to let him continue leading the country until after APEC (meeting) is completed. However, this matter will be decided at the PH Presidential Council meeting on Feb 21," he said in a statement today.
Malaysia will host the APEC Summit in November this year.
Anwar said he had met Dr Mahathir in Putrajaya to discuss the transition plan for the post of prime minister.
Anwar said he raised this issue because it was believed that PAS, a group from UMNO and a handful of PKR members were involved in efforts to gather signatures to support Dr Mahathir's leadership until the end of the full term.
Anwar said Dr Mahathir was not involved in these efforts and in fact reiterated his firm statement that he would hand over power as promised.
"I also informed the prime minister that in view of the existence of this dirty trick, the PH leadership and several other partners would continue to defend the PH agreement which was signed on Jan 7, 2018, that is to firmly support his leadership as the 7th Prime Minister and me as the 8th Prime Minister," he added.
Anwar said that in the almost two years of PH administration, this agreement had not been disturbed by any of the component parties — PKR, DAP, Amanah and PPBM.
— BERNAMA