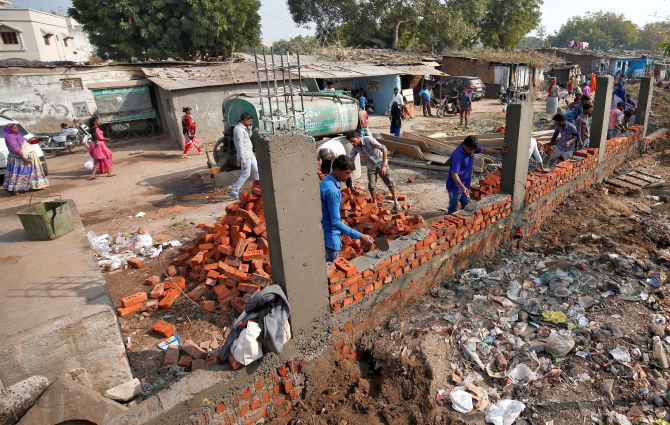 NEW DELHI: The western Indian state of Gujarat is building a wall in preparation for United States President Donald Trump's visit this month.
Gujarat, hosting the US leader during his Feb 24-25 visit to India, wants to put its best foot forward in welcoming him to the city of Ahmedabad by ensuring he doesn't get an unpleasant view of the place.
The new wall will hide a slum that will house around 2,500 people.
The 6-7 feet high wall is being erected to cover the slum area stretching about 600 metres, Indian media reported.
Trump is expecting a rousing reception in Gujarat on Feb 24, with crowds greeting him from the airport to a stadium, where an event called "Kem Chho Trump" ("How are you, Trump") is to be organised on the lines of last year's "Howdy, Modi!" gathering of Indian Prime Minister Narendra Modi in the US.
Local authorities are investing huge funds in sprucing up the entire route Trump and his entourage may take.
This includes improving roads, pavements and placing 150,000 flower pots, one report said.
However, municipal officials in Ahmedabad denied the wall's construction was an attempt to hide India's poverty from Trump's view.
"It is not correct to link building of the wall to the VIP visit," Ahmedabad's municipal commissioner Vijay Nehra was quoted as saying by The Hindu newspaper.
It is not uncommon for India to launch beautification drives when high-profile foreign leaders visit.
Hyderabad removed hundreds of beggars and allegedly poisoned stray dogs when Trump's daughter and advisor Ivanka Trump travelled the south Indian city for a business summit in 2017.
Ahmedabad was spruced up in 2017 as well when Japanese Prime Minister Shinzo Abe and his wife Akie Abe came to Gujarat to attend a summit.
— BERNAMA