KUALA LUMPUR – The world renowned musician Maestro Ilaiyaraaja is set to mesmerize the Malaysian fans with his enchanting music coming 14th March at the Malaysian International Trade and Exhibition Centre (MITEC). The 'Maestro Ilaiyaraaja: Live in Kuala Lumpur' gala event is another significant venture of Mojo Projects, which have carved its footprint in Malaysia with spectacular musical shows.
Ilaiyaraaja has been a significant name in the Indian movie industry for the last 45 years, with his eternal music and songs. He has composed music for more than 1000 movies, more than 5000 songs in Tamil, Hindi, Kannada, Telugu, Malayalam and almost all the Indian languages. Apart from composing music, he has sung hundreds of songs which are considered timeless pieces.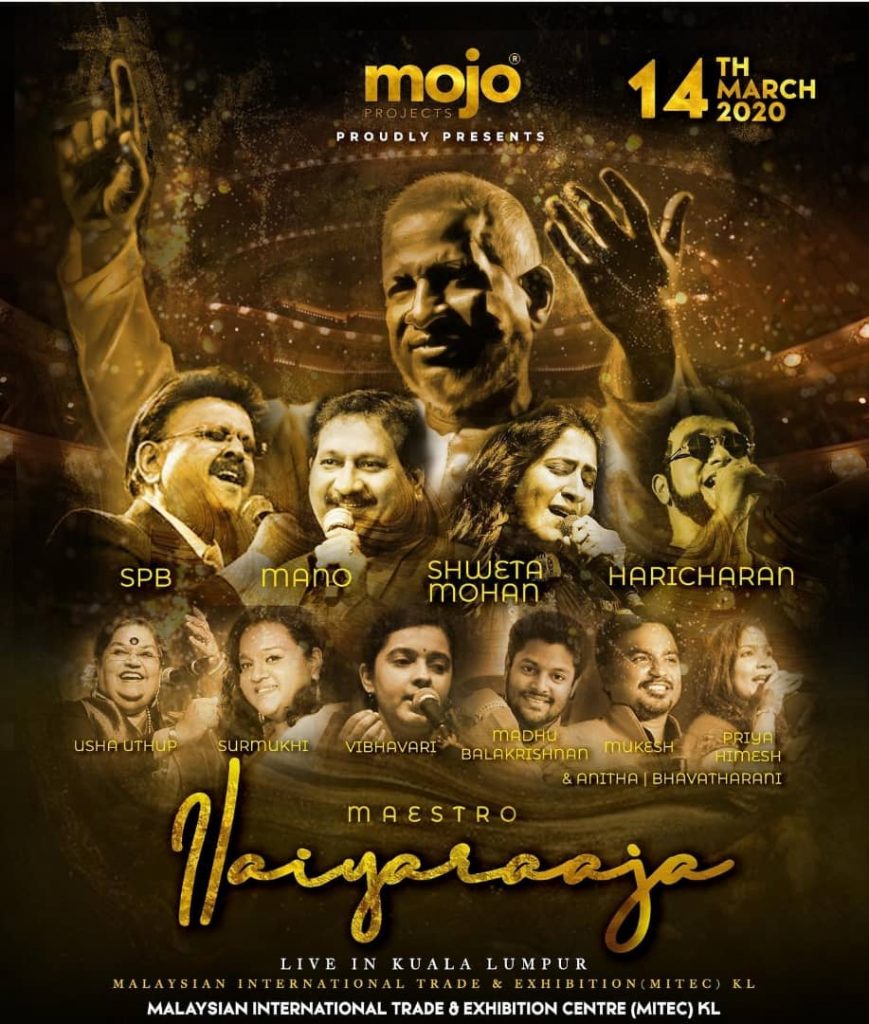 The legend is the first Asian to compose a full symphony with the Royal Philharmonic Orchestra in London. The Maestro's music, capture the hearts of millions across the globe, across the generations and beyond the barriers of language and color.
Prominent Indian artists, namely SP Balasubramaniam, Mano, Haricharan, Shwetha Menon, Usha Udhup, Madhu Balakrishnan and many more are set to thrill the Malaysian fans in this musical extravaganza. Fans are eagerly waiting to see the Ilaiyaraaja-SP Balasubramaniam combo on the stage as both the legends have created musical masterpieces since the last four decades.
According to Mojo Projects, the tickets for 'Maestro Ilaiyaraaja: Live in Kuala Lumpur' show are selling fast and all the preparations are in high gear to ensure an unforgettable experience for the fans.
The tickets can be booked online at AirAsiaRedtix.com/maestro.
For Press enquiries, contact Zeenee at +6017 657 1527 or email her at zeenee@mojoprojects.asia