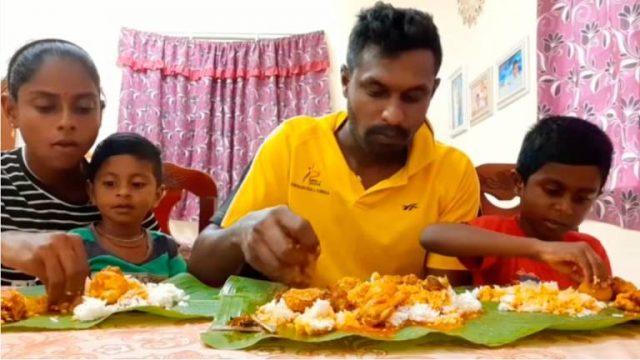 SUNGAI SIPUT: In January, a husband and wife began sharing their cooking videos on YouTube, not knowing their channel will become a hit among Malaysians from various backgrounds and age groups.
For those on social media, you may have come across cooking videos uploaded by 'Sugu Pavithra' showcasing a young lady cooking various recipes while speaking in fluent Malay language.
The now-famous lady in the video is S. Pavithra, 28, a housewife, who is assisted by her husband, M.Sugu, 29, an estate worker.
It has also came to their surprise that in just a few months, their channel managed to garner some 165,000 subscribers. This has enabled the couple, who lives in the estate quarters, to become a YouTube Partner and receive monthly income in US dollars.
When met by Bernama at their home, the soft-spoken Pavithra said she began uploading their cooking videos following a suggestion by her good friend who was also a 'YouTuber'.
"My first menu was grilled tilapia and I spoke in Malay language throughout the video. In just four days, I managed to get 5,000 subscribers on my channel and then I received an e-mail from YouTube to become its partner," said the mother of two.
Pavithra, who hails from Buntong, Ipoh said she and her husband had never thought that many people would watch their videos, let alone subscribing to the channel.
This, she said, had became her motivation to create more interesting materials.
"I can speak in Malay language fluently so why can't I use it for my videos? If I speak in Tamil, not everyone will understand. By using Malay language, many Malaysians can watch and understand.
"The most interesting and motivating part is when many viewers left positive comments and asked us to continue doing this. Some of them also requested Indian recipes, which is really exciting," she said.
Pavithra is also thrilled when a number of celebrities not only following their YouTube channel, but also have tried the recipes and uploaded their videos online, stating it was inspired by 'Sugu Pavithra'.
Among them were bodybuilder Sazali Samad and Japanese YouTuber IChang RM who both tried the chicken curry recipe.
Sharing her YouTube journey, the down-to-earth lady said she and her husband chose to share simple recipes such as stir-fried eggplant with shrimp paste, stir-fried water spinach and 'kuih ketayap, using the regular items available in most homes so that more people can benefit from them.
She highlighted that she only had one wok, a spatula and two pots including a rice cooker in her kitchen, but that never stopped her from cooking.
Pavithra also revealed that she did not have a tripod to mount her phone while recording videos, but replaced it with a cup and put them onto a stable surface.
Elaborating, she said when it was her turn to cook, her husband would assist in recording the videos, and vice versa.
"But when my husband was cooking, it was me who would explain the ingredients and cooking steps because he is bashful," said Pavithra, adding that she would edit the videos after meal and when her children were asleep.
Before ending the interview, the couple said they were far from becoming celebrities.
In fact, they are still experimenting on recipes and hoped that the subscribers will try those that they have shared on their YouTube channel.
— BERNAMA
The Youtube video on the  Bernama interview with "Sugu Pavithra" can be accessed at the following link: