COMMNENT BY YB PROF DR P.RAMASAMY, DEPUTY CHIEF MINISTER II, PENANG

I have always wondered why there is such a strong and firm resistance in appointing Anwar Ibrahim as the Prime Minister of Malaysia.
He is the second most important person in the cabinet of former Prime Minister Tun Dr. Mahathir Mohammad. However, Mahathir found ways and means to prevent Anwar from becoming Prime Minister.
Furthermore, Anwar is jailed on certain false accusations which are not convicted in any good court of law. Mahathir insisted that Anwar will not become Prime Minister as long as he is there.
Similarly, another former Prime Minister Dato' Seri Najib Razak may not be as evil as Mahathir, but still assured Anwar will not become Prime Minister. As before, Anwar was prosecuted and jailed.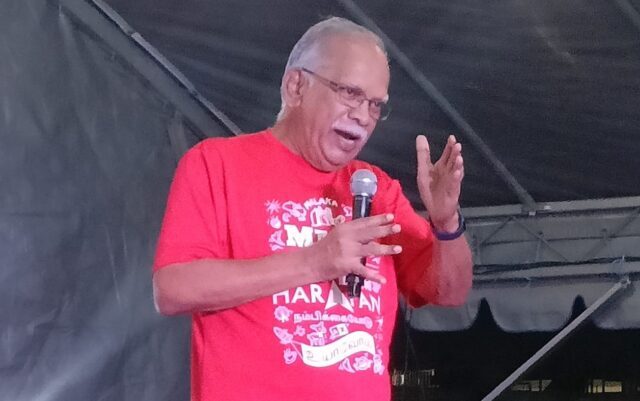 In 2018, PH took over political power on the understanding that Anwar would be appointed Prime Minister in the future. However, due to Anwar in Sungai Buloh Prison, Mahathir was appointed Interim Prime Minister as a temporary step until Anwar's pardon and he returned to the political arena.
But see, Mahathir despite giving the impression that he is a changed person, refuses to hand over his Prime Minister post to Anwar. He resisted not understanding that he would step down from the position after two years.
Anwar was impatiently waiting on the sidelines to take the position, but his hopes were sunk. Meanwhile, Mahathir is busy degrading Anwar in PKR by supporting Azmin Ali and other senior leaders.
The main cause of Sheraton Move may be different, but Mahathir is also involved. Without his grace the move would not have happened.
However he resigned because he wanted to be the Prime Minister for life by choosing the Minister of his choice. It was this selfish initiative that caused the main driver of Sheraton Move to stay away from Mahathir.
When Muhyiddin Yassin and Ismail Saberi became Prime Ministers, Anwar did not have a strong figure supporting him to become Prime Minister.
He finally succeeded after PRU 15 despite not having numbers, but the Government of Unity with the inclusion of GPS from Sarawak and GRS from Sabah brought majority numbers to form the government.
Muhyiddin tried his best to prevent Anwar from becoming Prime Minister by using dubious affidavit submission. But it was filtered by His Highness as unimportant.
Previously, Agung had an unpleasant experience in connection with affidavit, a kind of magical formula for Muhyiddin to achieve his desired Prime Minister post.
Turning to the bigger question of why so much resistance to Anwar becoming Prime Minister?
The answers that Anwar has provided in the last few days show that as his actions root out corruption which led to the arrest of three United leaders including President Muhyiddin on six charges of abuse of power and money laundering.
More arrests are expected to be made including those who secretly bribed and amassed their wealth in the previous period.
Mahathir opposed Anwar not because he was seen as his competitor or because he is a populist.
Anwar is seen as someone who will root out corruption and abuse of power. Mahathir knows that empowered Anwar will not stop running after those corrupt politicians.
Anwar will not hesitate to include taking Mahathir to court for being involved in bias and nepotism. This is why Mahathir had to prevent Anwar from becoming the Prime Minister by making false accusations against him.
Ultimately, Anwar was punched in police jail before being taken to court in a bizarre process to imprison Anwar. Najib like Mahathir sees the danger risk in Anwar.
There is a constant concern that Anwar if given power, he will pursue their non-material political positions.
In Muhyiddin's case, he may have fought the 1MDB scandal, but whether he fought corruption is doubtful. In two examples of submission of affidavits before the last PRU18 and after that are aimed at ensuring that Anwar cannot dream of becoming the Prime Minister. Muhyiddin succeeded in the first attempt but failed in the second attempt.
In just a few months, despite some swings in Anwar's side, he is already serious in chasing down the corrupt and misuse of power.
The MACC is working strong overtime by casting a net far and wide to arrest the guilty.
Three key Bersatu leaders have been arrested and charged including Muhyiddin. Corruption charges thrown by them against the other parties are now hitting United leaders like Boomerang.
Corruption is not a new phenomenon, it is rooted during the notorious Mahathir administration.
Mahathir's cronies have earned huge amounts of money through giving with policies reek of prejudice and nepotism. Former Finance Minister Daim Zainudin is still around, he is one of the main beneficiaries of Mahathir's Pro-Melayu policy.
In fact, there are a few more.
Anwar has no choice but to act against corruption. He needs to make changes now. The vast foreign debt in the region amounts to RM1.5 trillion is caused by certain factors especially financial embezzlement due to corruption and other misconduct.
Those who previously talked about corruption, but nothing was done. I think Anwar is leading and making changes. The fight against symptoms of corruption, abuse of power and other defiance must begin now.
If Anwar fails to move despite having profound stakes, I don't think any other PM after him will have the political will and open-mindedness to eliminate the threat.