Kuala Lumpur – Pakatan Harapan's PM designate Tun Mahathir's remarks that he would do more for Indians should he be elected as the next Prime Minister has fueled an exchange of war of words between the DAP and MIC.
MIC President Datuk Seri Dr S.Subramaniam commenting on Mahathir's remarks said yesterday: "the Indian community would be better off now if former Prime Minister Dr Mahathir Mohamad had done more to help them during his tenure as prime minister"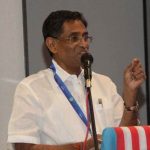 "Well, we would have been very happy if he had done that for the last 22 years of his (prime ministership). Then the Indian community would be in a much more better position than what it is," Subramaniam said in a press conference, after attending the launch of World Cancer Day Celebrations 2018 at the Temple of Fine Arts in Brickfields today.
Meanwhile, Penang Deputy Chief Minister II, Prof Dr P.Ramasamy (pic) jumped into the argument to reply to Dr Subra. He posted a long reply on his facebook page, and claimed that Dr Subra and MIC should not merely put the blame on Mahathir but should also accept responsibility as it was Tun Samy Vellu who was leading the MIC during the leadership of Mahathir.
Ramasamy also admitted that "Mahathir as the former prime minister has to shoulder the blame not just for ignoring the Indian community but also weakening democratic institutions in the country. Despite the initial euphoria, the Indian community was worst hit because Mahathir prioritised the Bumiputra agenda to the exclusion of other communities like Indians".
Hindraf Chairman Waythamurthy also joined the fray by saying "Barisan Nasional (BN) leaders who accuse Dr Mahathir Mohamad of not doing much for the Indian community, were also in power during his 22-year tenure".
Waythamoorthy also asked why Najib had remained silent when he was a minister in Mahathir's cabinet and while serving as Pahang Menteri Besar. "There is no record of Najib having ever spoken up for the Indian community or making any contribution for the Indians when he was serving under Mahathir" Waytha said.
Waytha noted that the criticism against Mahathir was purely out of fear of the PH prime ministerial candidate's increasing popularity.
-R.Mutharasan